Machu Picchu by car in 2 days
---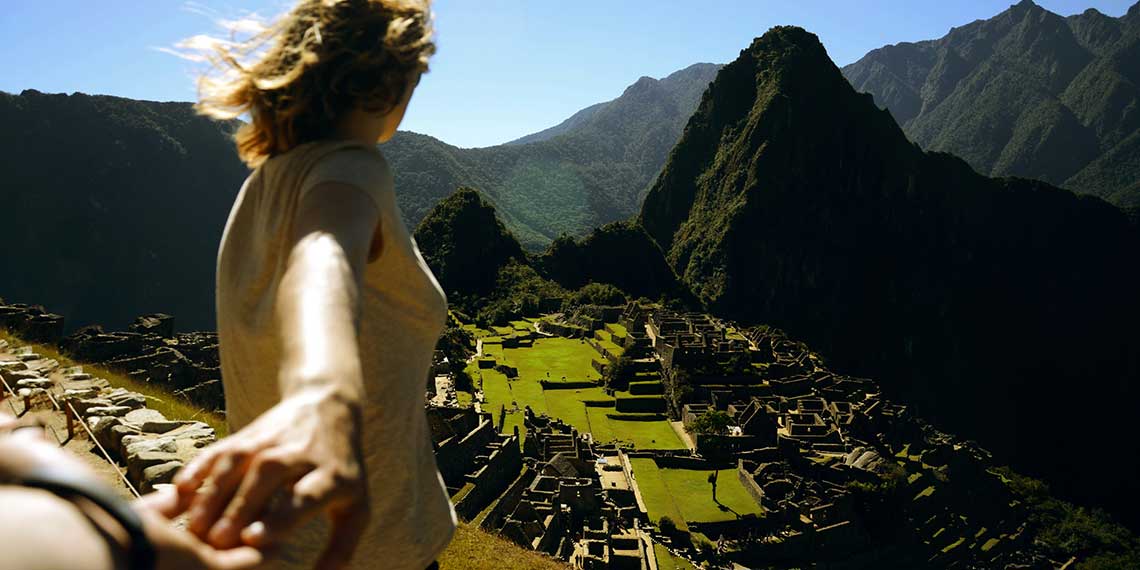 ---
ITINERARY
First day: Cusco - Hydroelectric and 3 hours scenic road
---
The departure will be 07:30 a.m. With the pick up from your hotel, we will cross the Sacred Valley of Incas, and we will be able to appreciate the beautiful town of Ollantaytambo. We will continue the trip by a winding ascent towards the Malaga pass located at an altitude of 4316masl from where we can see the most beautiful landscapes of the Peruvian Andes.
After a short stop we will begin the descent towards the jungle passing through the different altitudinal floors that combine paradisiacal landscapes from majestic snow-capped mountains to the warm jungle. We will continue towards the town of Santa Maria. Located at an altitude of 1575 masl, to continue after a brief stop to the town of Santa Teresa. 2:00 p.m. approx. Where a delicious lunch will be waiting for us with a variation of food for the client's taste, 3:45 p.m.
Finally we will return the road to the hydroelectric station to Aguas Calientes arriving at 5:45 p.m. In this interim there will be free time where you can visit the hot spring of Aguas Calientes. At 8:00 pm. We will enjoy a delicious dinner at which time we will receive a talk by the guide who will be in charge of the guided tour of the citadel of Machu Picchu. Overnight in Machu Picchu town.
---
Day 2 : Aguas Calientes – Machu Picchu – Cusco
---
Breakfast will be served from 5:00 a.m.
Transfer to the bus station and 30 minutes approximate trip to the Inca city of Machu Picchu, free time to use the toilets, entrance to the Inca city, starting our guided tour which will start at 6:00 a.m. and it will last 2 hours, then enjoy free time until 11:30 a.m. approximately, recommended time to board the return train to Hydroelectric, the same one that departs from Aguas Calientes at 1:30 pm, where we will make the transfer to the Van to continue the return to Santa Teresa, where they will be given a free time of 1 hour approx. for our lunch, later we will continue the return to Cusco by the same route that we arrived, arriving at 9:30 p.m. approximately.
End of our Services
INCLUDES
Tourist transport roundtrip and return. (Cusco, Hydroelectric, Cusco)
01 night hotel (private bathroom, hot water 24 hours, luggage storage at no additional cost, wifi)
02 lunches (first and second day), 01 dinner (first day), 01 breakfast (second day).
Bus Concetur: up and down to Machupicchu
Entrance to the citadel of Machupicchu
Professional English / Spanish guide.
NOT INCLUDES
Income to recreational sites, such as "Discotheques", "Hot Springs, Amusement Parks"
Unscheduled feeding.
Others not specified in the Program.
Entrance fee to Huayna Picchu more USD $ 35.00.
Entrance fee to Machu Picchu mountain more USD $ 35.00.
What you should bring
Repellent for mosquitoes, sunscreen
Cap and polo shirt long sleeve
Swimwear, Short, Towel, Sandals if you want to visit the hot springs
Flashlight if you want to walk up to Machu Picchu, rain poncho
Personal water bottle and snack.
Camera, etc.
Extra money.
DISCOUNTS
To qualify as a student, it is necessary to have a valid Student Visa. Scan the card and email us the copy at the time of your booking. We will then offer a USD $ 20.00 discount per student.
For children younger than 16, we offer a USD $ 20.00 discount (you also need to scan and email us a copy of the passports).
For children younger than 7, we offer a USD $ 50.00 discount (same here: you need to scan and email the passports).
ROUTE ON GOOGLE MAPS
RESERVATIONS
For availability of spaces for this service, please contact us info@salkantaytrek.org and we`ll send you detailed information, prices, terms and conditions.
Please keep in mind that significant price reductions are available for groups. All our tours are fully guaranteed, departure every day. Contact us for more information for the tour that you are choosing, or to begin customizing your own itinerary. recommendations:
"ITEP Eco Travel is a tour operator travel agency in Peru and the city of Cusco, We really know what we do and offer, We are well managed, with several offices in Peru and a long list of travel destinations, offering all travel alternatives in Perú, from family trips, honeymoon trips and luxury travel, including adventure tours and exploring trips to the jungle, for almost any budget"
NOTE: ITEP Eco Travel, specializes in organizing the ideal travel plan to Peru, with hotels and destinations that you choose, because we have all confidential and promotional rates. For guidance on how to organize your custom package. Please write us.
TOUR DETAILS
2 Days & 1 Night
Every day of the year (please check availability in our groups).
1950m - 4316m / 6398 ft - 14160ft
Cusco, Ollantaytambo, Malaga Pass, Santa Teresa, Hidroelectric, Aguas Calientes, Machu Picchu, Aguas Calientes - Cusco.
- Daily departures are available along the year.
- All private service departure dates are adapted to your request any day you choose.
Small groups 10 – 16 people maximun. Average 12 people.
The world opens up a little more for a small group, We have the freedom to move around
Tour Dificulty LEVEL: BY DAY
DAY 1: easy
DAY 2: easy