Classic Inca Trail to Machu Picchu + Huayna Picchu in 5 days
---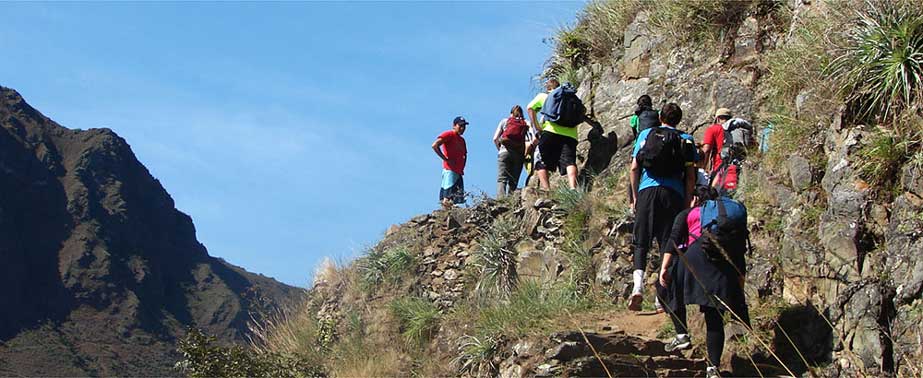 ---
This is our ultimate highlights holiday of Peru, you'll experience the grandeur of the Inka Civilization. Explore the most breathtaking natural sights of the Inca Trail and the top Inca heritage site Machu Picchu, including the Huaynapicchu Sacred Mountain.
Please contact us and one of our specialist consultants will help you come up with your perfect holiday.
Preparing with us your Inca Trail Experience
This trek is often known as "the five days Inca Trail Huaynapicchu mountain"
ITINERARY
Meals provided= (B) Breakfast, (L) Lunch,(D) Dinner
---
Day 1 : Cusco - Piscacucho - Wayllabamba (L,D)
---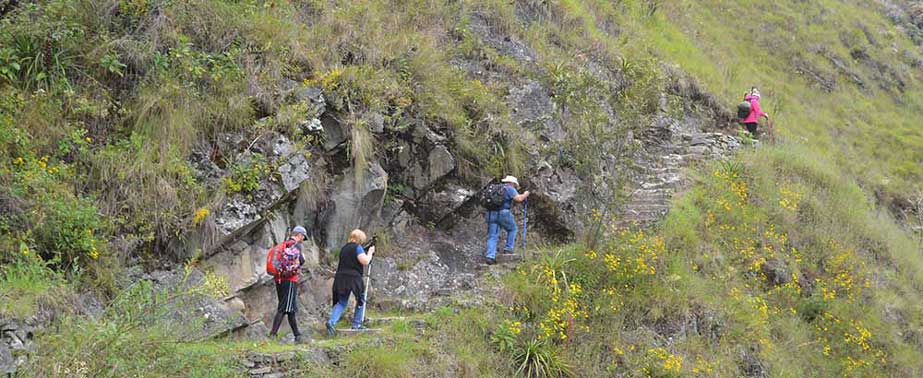 ---
Everyone is collected early from their hotels and we all travel by bus for a bit more than three hours, passing by the picturesque villages of Chinchero, Urubamba and Ollantaytambo, until reaching the kilometre 82, the actual start of the trail
We start our trek escorted by native "quechua¨ porters going through semi-arid terrain along the Urubamba River valley, with magnificent views of the snowcapped mountain, Veronica (20,200'). We cross the Vilcanota River and follow the trail to the right as it climbs steeply up from the river. After passing through a small village, the ruins of the Inca hillfort of Huillca Raccay come into view high above the mouth of the river Cusichaca ('happy bridge'). It is a simple descent down to the Cusichaca River.
For a further 7 km the path follows the left bank of the river up to the village of Wayllabamba (3,000m). The name in Quechua means 'grassy plain'. We spend the first night here beside some spectacular ruins which, if you have the energy, we have time to explore.
---
Day 2 : Wayllabamba - LLulluchapampa - Pacaymayu (B, L, D)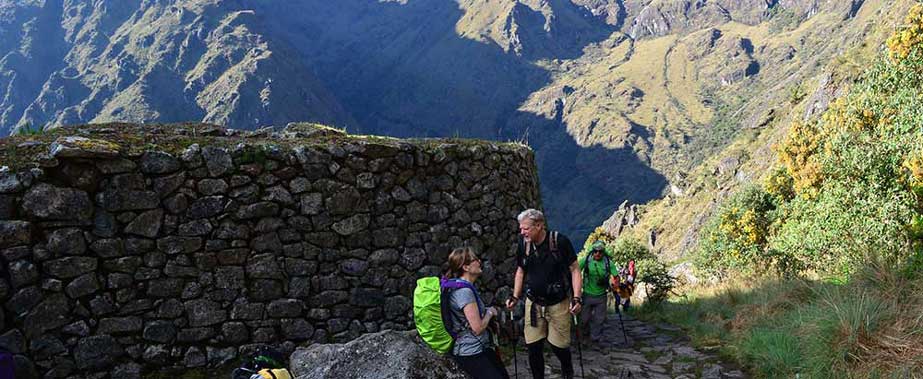 ---
After a delicious breakfast, we start our second day of trekking, perhaps the most difficult, as we have to climb to the pass of the impressive Warmihuañusca ("Dead woman's Pass") at 4,200 meters high. In this place, the highest in the Inca Trail, we enjoy a spectacular view of the Andes. The path continues on following a mountain stream up past hummingbirds and amazing stunted cloud forest. We pass by the beautiful grassy area at Llulluchapampa (3680 meters), which also possesses outstanding views down the valley.
After lunch, we start the descent towards the valley of Pacaymayu, where we make our second camp.
---
Day 3 : Pacaymayu - Phuyupatamarca - Wiñayhuayna (B, L, D)
---
From Pacamayo it takes about an hour to climb up to the ruins of Runkuracay. These small circular ruins occupy a commanding position overlooking the Pacamayo valley below. Another 45 minute hike will bring you to the top of the second pass: Abra de Runkuracay (4,000m). At last you'll feel that you are walking along the trail of the Incas with paving, for the most part, being original. The descent down the steps from the pass is steep so take care. This section of the trail, up till the 3rd pass, is particularly beautiful as the path crosses high stone embankments and skirts deep precipices. After about 1 hour from the 2nd pass you'll arrive at Sayacmarca by way of a superbly designed stone staircase. The name Sayacmarca means 'Inaccessible Town' and describes the position of the ruins perfectly, protected on three sides by sheer cliffs. No one knows the exact purpose of these ruins.
You have to backtrack a little to rejoin the trail as it passes Conchamarca, a small Inca dwelling situated in the shadows of Sayacmarca, which was probably a tambo for weary travelers on their way to Machu Picchu.
From then on the path descends into a magnificent cloud forest full of orchids, hanging mosses, tree ferns and flowers, passing through an impressive Inca tunnel, carved into the rock, on the way. The trail then climbs up to the 3rd pass (3,700m). The view from the pass offers excellent views of several snow-capped peaks including Salkantay (6,271m) and Veronica (5,750m). A few minutes after the pass is Phuyupatamarca, the most impressive Inca ruin so far. The name means 'Town in the Clouds'.
Access to the ruins is down a steep flight of stairs passing six 'Inca Baths' probably used for the ritual worship of water. Leaving the site via an impressive Inca staircase leading from the west side of the ruins (the far end from the baths) you descend a thousand or so steps. Be careful with your knees which will feel the strain by the end of the day.
---
Day 4 : Wiñayhuayna - Machu Picchu (B)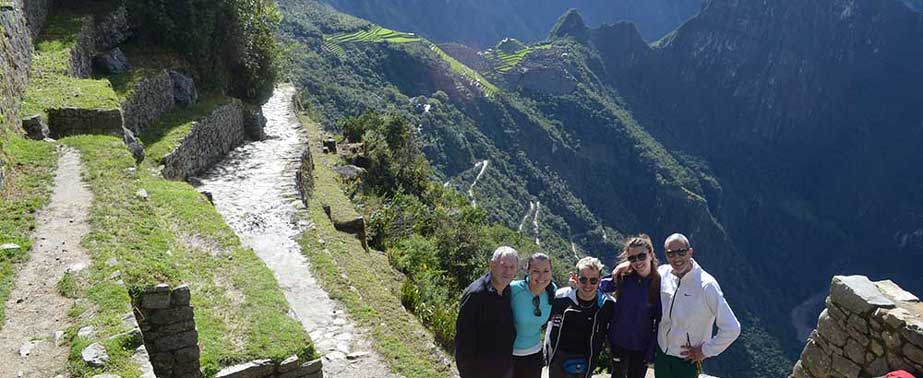 ---
After an early morning chance to catch the sunrise on the surrounding snowcapped mountains of Salcantay and Veronica, we give a farewell to our porters composed of a traditional song and dance. Our final day of hiking brings us into the cloud forest with a series of Inca stairways to Winay Wayna, another interesting site full of swallows and orchids. Finally we get to Inti Punku, the gateway of the Sun and our first glimpse of Machu Picchu. We pass through the ruins and catch a bus down to our hotel in the colorful town of Machu Picchu Village (formally known as Aguas Calientes) and celebrate our return to civilization.
In the late morning we have Machu Picchu virtually to ourselves for a full guided tour, with time to climb Huayna Picchu (due to permit restrictions, please let us know at the time of booking whether you want to climb Huayna Picchu or Machu Picchu Mountain) or else just wander around, soaking up the amazing atmosphere.
If you are exhausted just come down to Aguas Calientes and relax in the hot springs as you have a second opportunity to see all of Machu Picchu well rested tomorrow!!!
---
Day 5 : Machu Picchu - Huaynapicchu - Cusco (B)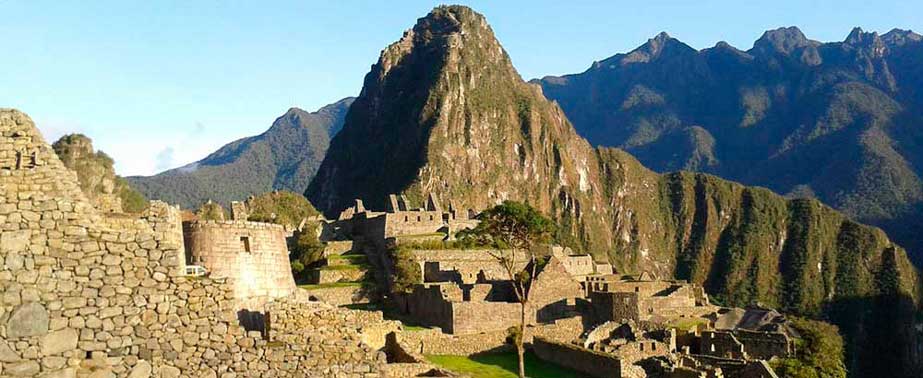 ---
After an early Breakfast you can walk or take the bus back up to explore Machu Picchu more fully and of course for your climb of Huayna Picchu. If you were so tired yesterday then you have plenty of time to really capture Machu Picchu today so start out early! Buses are available from 5.30am.
In the afternoon, we board the train for an exhilarating ride along the Sacred Valley of the Incas. Once at the terminal, our bus whisks us back to Cusco and your hotel. Of course if you have some energy left, you could always explore Cusco's excellent nightlife.
End of our Services
INCLUDES
Transfers In / Out.
Transportation from Cusco to Km 82 / Piscacucho (where we start walking).
Professional bilingual tour guide (English / Spanish).
Guided visit to Machu Picchu and the ruins along the Inka Trail.
Entrance Fee to Inca Trail and Machu Picchu.
2nd entrance fee to Machupicchu and Huaynapicchu Mountain.
Bus tickets to Machupicchu Inca City and to Machupicchu town (Aguas Calientes).
4 breakfasts, 4 lunches, 4 dinners and various snacks to be eaten throughout the day.
Professional Cook: all our fresh vegetables are washed in iodine water prior serving and we provide only boiled, filtered or iodized water for drinking. Vegetarian food on request at no extra cost! All dietary requirements from vegans, lacto-allergies and general dislikes can be catered so long as prior warning is given when booking the trip.
Porters service (to carry the tents and cooking equipment only).
Drinking water along the Inka trail.
Dining tent with tables and chairs.
First Aid equipment.
1 Oxygen Tank.
1 night in a basic hotel in Aguas Calientes.
Expedition train ticket from Aguas Calientes to Ollantaytambo.
Transfer from Ollantaytambo train station to your Hotel in Cusco.
NOT INCLUDES
1st Breakfast, Last Lunch
Sleeping bag (Optional US$ 25.00 per 4 days)
Extra Porters for carry persona staff (Optional US$ 80.00 per 4 days)
Other not mentioned
RESERVATIONS
For availability of spaces for this service, please contact us info@salkantaytrek.org and we`ll send you detailed information, prices, terms and conditions.
Please keep in mind that significant price reductions are available for groups. All our tours are fully guaranteed, departure every day. Contact us for more information for the tour that you are choosing, or to begin customizing your own itinerary. recommendations:
" ITEP Eco Travel is a tour operator travel agency in Peru and the city of Cusco, We really know what we do and offer, We are well managed, with several offices in Peru and a long list of travel destinations , offering all travel alternatives in Perú, from family trips, honeymoon trips and luxury travel, including adventure tours and exploring trips to the jungle, for almost any budget"
NOTE: ITEP Eco Travel, specializes in organizing the ideal travel plan to Peru, with hotels and destinations that you choose, because we have all confidential and promotional rates. For guidance on how to organize your custom package. Please write us.