Cusco, Sacred Valley and Salkantay Trek in 7 days
---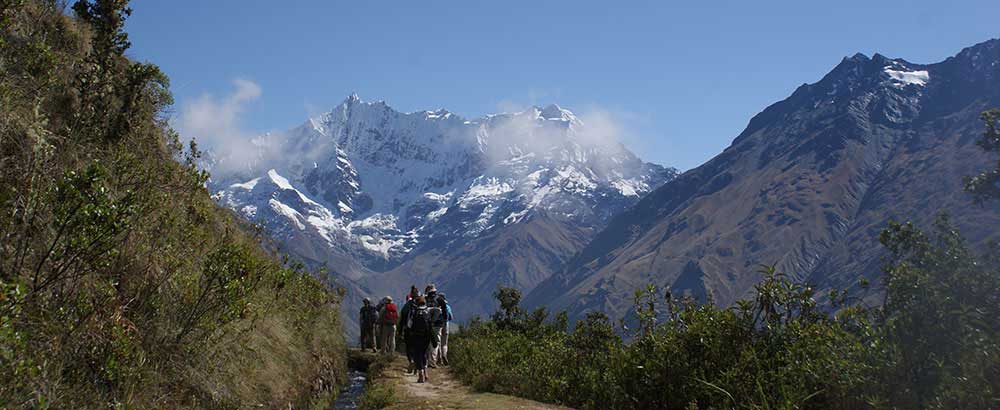 ---
This Trek the Salkantay includes two nights of acclimatization in Cusco before the Trekking to Machu Picchu, the complete 5 days hike Salkantay Trek to Machu Picchu, an overnight by Machu Picchu in the town of Aguas Calientes and back to Cusco for a last night.
ITINERARY
Day 1: Arribal in Cusco - City Tour
---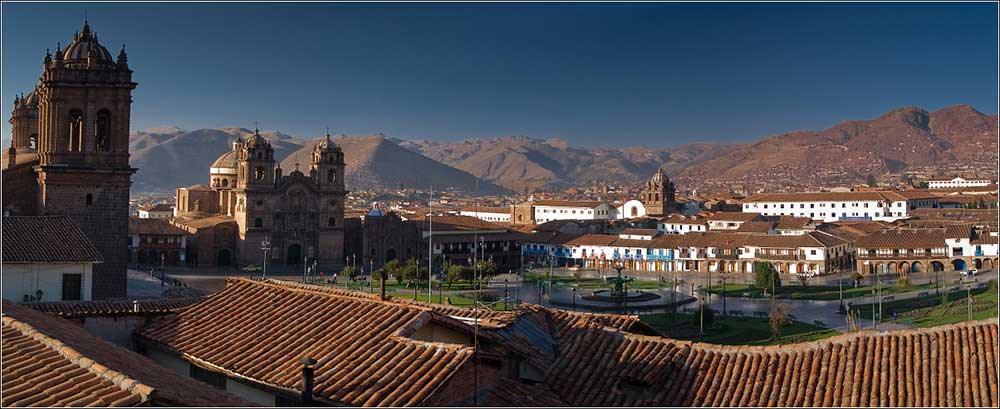 ---
Arrival and transfer in Cusco
At the schedule time, our uniformed personnel will be waiting for your arrival at Cusco airport or the bus terminal, carrying a sign with your name on. We will then take you to the hotel. The tourist mobility for the service we offer is fully equipped for your comfort. Travel time will vary depending of the location of your hotel.
Arrival at the hotel, registration and accommodation.
13:30 pm City Tour Cusco
We will pick you up from your hotel at 14:00 pm to begin our tour of the city, where our professional guide will provide you with the necessary information on all the attractions that we will visit. The tour guide will be attentive to any questions and / or needs that each of our visitors require.
First, the main temple of the Sun known as the "Qoricancha". Secondly, "Sacsayhuaman" known as the head of the Puma in reference to the city of Cusco which was built in the shape of a Puma, and the head of the puma was exactly Sacsayhuaman. After we will visit Qenqo temple in honor of mother Earth or Pachamama. We then continue with our bus to Pucapucara that, in Incas time, was an entry control to the sacred city of Cusco. Finally, a visit of Tambomachay Inca temple in honor of the natural element of water.
We then return to Cusco. It will be up to you to decide to either stay in the main beautiful square of Cusco or be taken to your hotel.
---
Day 2: Sacred Valley of the Incas Tour
---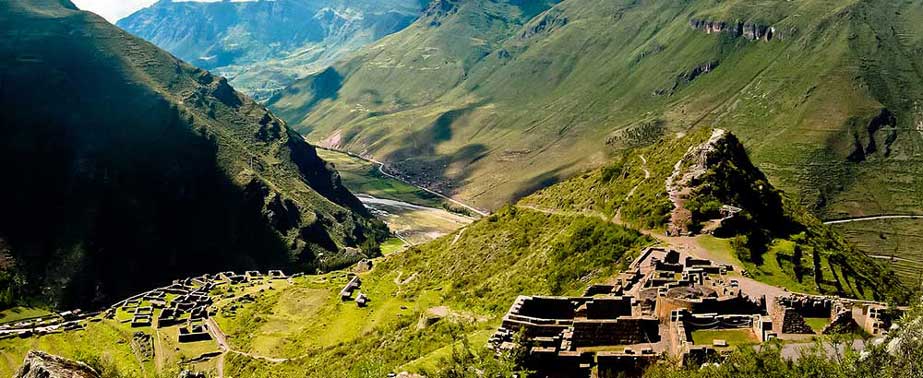 ---
8:30 a.m. We will pick you up from your hotel to start our tour of the Sacred Valley of the Incas. We will leave the city to reach the viewpoint of Taray, from here we can enjoy the beautiful Inca terraces and existing farmland which surround the Sacred River of the Incas "Willcamayuc". Later on, we´ll visit Pisaq the archaeological Park, also the Indian market which is as colorful as the local people.
The Pisaq Andean Market is the best place to shop for crafts and souvenirs.
After some free time we will continue our journey to the village of Urubamba, where will have lunch at a delicious buffet.
Continuing our journey we'll reach the last living Inca town "Ollantaytambo".
Ollantaytambo is remembered as a mythical love story, a drama of love that prevails against all obstacles. It is believed that this city was built by General Inka Ollanta in a time of rebellion against the Royal army of the Inka to prevent its binding to the beautiful princess Cusi Qoyllor "beautiful star".
After a 40 minutes' drive we will reach Chinchero which is surrounded by the colonial houses, where we will again discover the magnificence of the Incan constructions, terraces and the beauty of the local people in their traditional dresses, all surrounded by the local temple, where you will appreciate the painting of local people who later where well-known as the creator of the "Escuela.
Cusqueña" founders. The Colonial church is rich in art and jewelry and well appreciated by their population.
Lunch is included on this tour in the town of Urubamba.
19:00pm Arrival in Cusco and transfer to your hotel.
Overnight in Cusco.
---
Day 3 : Cusco - Mollepata - Soraypampa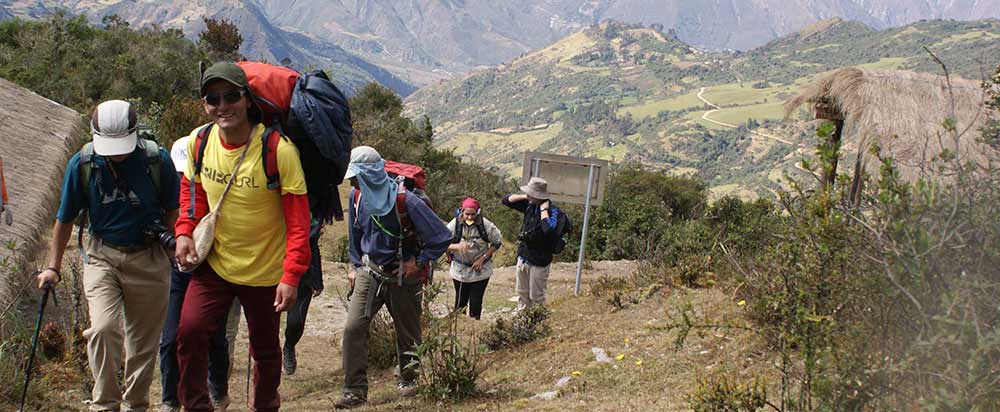 ---
4:30 am Pick up from hotel,by our tourist bus, We´ll travel through the Andes , reaching the village of Mollepata.
Where you can gear up on last minute supplies or anything you may have forgotten back in town (water, rain poncho, bug spray, etc). Once the horsemen have taken the large packs and all last-minute supplies have been purchased, it's time to start the trail.
The "trek" on this first day is for the majority of the time simply walking on the road that runs all the way back to Soraypampa. While the views are stunning and the trail occasionally takes a steep shortcut through the cow pastures, the scent of eucalyptus invades you as you head up out of Mollepata and out into the wide open valleys that dominate this section of the Andes, and it feels incredible to breathe the thin, mountain air and slowly slip further back into the middle of nowhere.
Eventually the trail makes it way all the way to the back of the valley, and the outpost tent settlement of Soraypampa comes into view. Little more than a collection of 4 or 5 ranching families who rent out campsites to passing trekkers, Soraypampa is an utterly surreal location. Nestled at the base of towering 3,600 mts or 8,528 fts. Andean peaks such as Mt. Salkantay at 6264 mts or 20551.18 fts, Soraypampa is our protector of Apu Salkantay: windswept, barren, freezing, and utterly enchanting. Most tour companies have covered campsites here to protect campers from the harsh elements, and it's quite easy to fall asleep after a long day of trekking and the sound of the nearby river lapping you into a slumber.
---
Day 4 : Soraypampa - Salkantay Pass - Huayrac Machay - Challway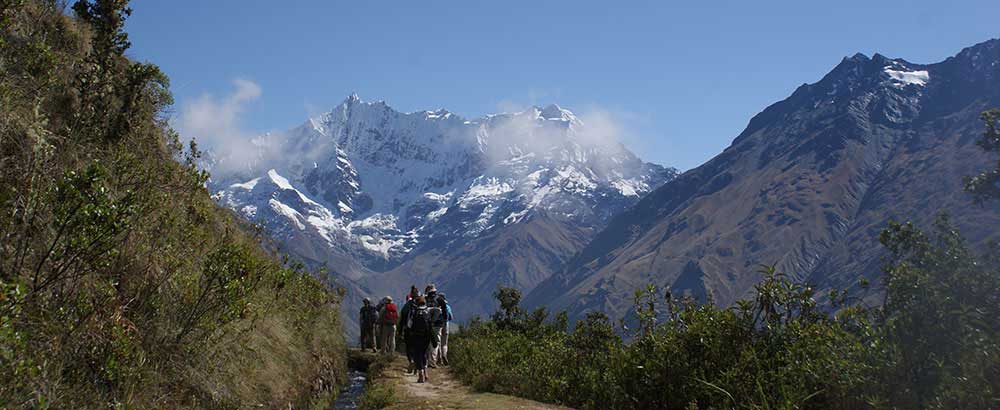 ---
The second day is far and away the hardest day of the trek. It's long, it's cold, and you have to make your way over the 4,650 mts – 15,256 fts Salkantay Pass. Nonetheless, waking up at sunrise amidst the sprawling grasslands of Soraypampa, the sun illuminating the 6264 mts or 20551.18 fts Andean peaks springing up from behind you makes for an energizing and mesmerizing start to the day.
The climb to the pass takes anywhere from 3-4 hours, and it is a fairly steep grind of narrow switchbacks and steady uphills until the rock structures of the pass finally come into view. Unless hiking in June or July the trail should most likely be devoid of any snow or ice, although hail, sleet, ice, and rain are possible at any time of the year.
Though the air is thin and the trail is steep, anyone who is fairly physically fit and acclimated to the altitude can make it over the pass. We had, and probably we´ll have 60-something year old people in our group and they made it over the pass just fine. Our group carry extra oxygen, Also you can ride a horse and let them catch a ride over the pass.
Once having crossed the pass it is the start of a long path downhill where you will eventually drop over 1,700 mts or 5577 vertical ft until you arrive to our campsite in Challway.. Along the way to Challway there are various tent encampments and small villages scattered amongst the plains, and it is incredible to think that there are a handful of local people who live permanently so far removed from modern society and amongst such harsh natural conditions. Interestingly enough, nearly every small village (example: population 4 or 5) that you pass, there is at least 1 or 2 small. The trail weaves its way down the flank of the mountain and parallels to the Salkantay river that grows exponentially as you make your way down the valley, finally making it an hour or so before sunset to the village of Challway. The camping here is ready.
---
Day 5 : Collpapampa - La Playa - Lucmabamba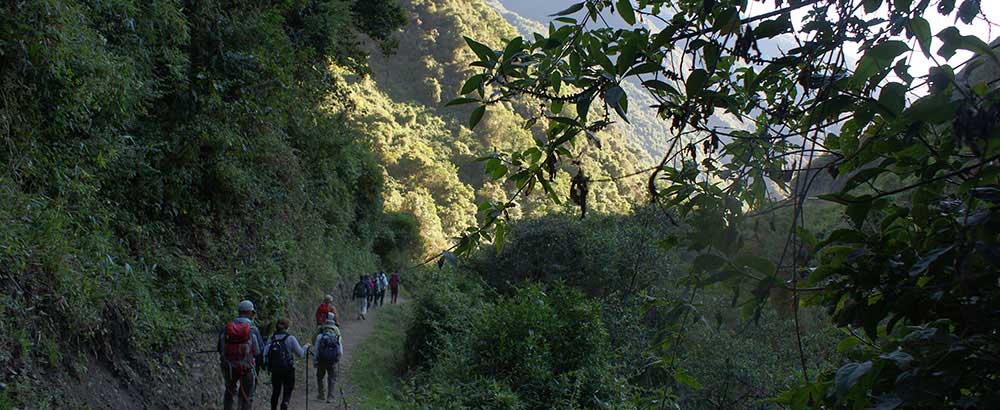 ---
The trail from the village of Challway to lunch at La Playa is when you make the noticeable change from the mountains down into the jungle. Trickling streams amongst the sub-alpine plains give way to raging waterfalls and streams .There are a number of river crossings across bridges constructed from simple tree logs and branches, and it's the kind of scenery that you expect a massive python or puma to lurch out at you at any given moment, although allegedly no pythons exist here and pumas are exceptionally rare. the vista of the river valley and the occasional stream crossings are enough to occupy your mind for the 4 hour trail down to lunch.
The area known as La Playa is our lunch place, here that the mosquitos and gnats start coming out in force, So the insect repellent will be our best best way to keep them away.
We continue to Santa Teresa our campsite.
We take a local bus for an hour long bus ride wich will bring us to the town of Santa Teresa, which is the first actually town that you'll encounter along the trail, and is also famous for the Santa Teresa hot spring that bubble up right outside of town.
Optional : Santa Teresa Hot Springs .
After a rest, we will go to the hot springs and enjoy the well-deserved soothing water!.
---
Day 6 : Santa Teresa - Hydroelectric - Machu Picchu Pueblo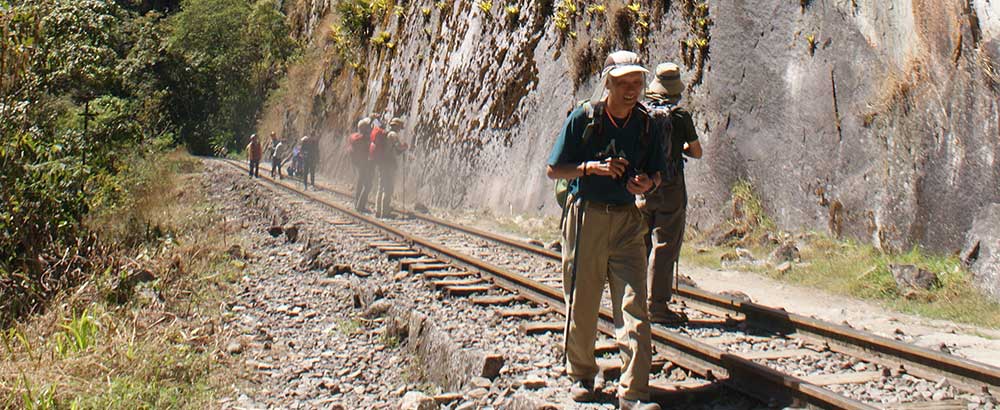 ---
After breakfast you'll walk for four hours until you reach the Urubamba River and have lunch by the hydro-electric station there.
Hydro is actually farther than Machu Picchu town on the train. It is mainly used by locals.
The walk to Aguas Calientes is along the train tracks, 12 kilometers (7.5 miles).
Walking along the train line is much more enjoyable than we anticipated as a wide path undulates beside the tracks. Almost the entire distance is shaded by jungle foliage, trees and flowers, the incline is very gradual. This is the perfect "cool down" after 4 days of trail.
We can tell that we are getting close to our destination of Aguas Calientes: we notice more and more "clean looking" trekkers in fancy clothes looking very fresh... they are day trippers!. We are only a short walk away from a hot shower. The first in 4 days! There are no words to describe the joy of seeing the town of Aguas Calientes, the tired legs are quickly forgotten as we are near our hotel. Not only would we get to take a hot shower, but also sleep in a real bed... Hurra!
We all meet for dinner at a restaurant and get a plan for our next day.
Overnight in hostal in a soft bed. !you gonna love it! Won´t want to get up of bed? Come on ,You must do it. Tomorrow is Machu picchu! dream with it!
---
Day 7 : Excursion to Machu Picchu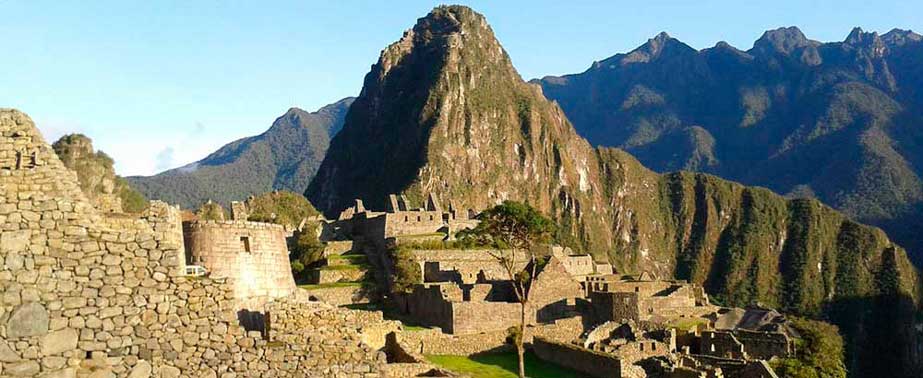 ---
We catch a bus from Aguas Calientes to Machu Picchu, the buses start running from 5:30-6am. What does this mean? This means that all the people who took the 1st bus are most likely going to get to Macchu Picchu before others and be the first enjoying the Sunrise, also well rested and relaxed and with full of energy for climb Huayna Picchu mountain or Machupicchu mountain if you decide it.
Macchu Picchu is an incredible spectacle of architecture, culture, and history.
Macchu Picchu is special, and watching the sun break the mountains and illuminate the city of stone is a once in a lifetime opportunity.
The setting for the ancient city is absolutely stunning, and the feeling of reaching it by foot over 5 days of such intense physical exertion and the swath of rugged terrain that you've since left behind makes the entire moment of standing atop Macchu Picchu much more rewarding than had you simply taken a train from Cusco and then a bus to the top.
Overall this journey is highly recommended, just be sure to bring some good rain gear, some really strong bug repellent, and be prepared for an absolute madhouse on the final day of the trail "cause after 10 am thousands of tourist are coming from Cusco in a day trip to Machupicchu.
Ok, so here's the deal with Huaynapicchu Picchu. Only the first 400 people who got to the entrance fees can climb Huayna Picchu, the famous little mountain that sits inside of Macchu Picchu. 200 hundred people at 7:00 am and other 200 hundred at 10:00 am. If you want to do it, please let us know at the moment of your reservation.
At 6:45p.m. (depending on availability), you will be taking a train to Ollantaytambo and from there; a bus will drive you to Cusco.
Arriving approximately at 22:30 pm
End of our Services
INCLUDES
Transfers In / Out
Transportation Cusco - Mollepata. (Start walking)
Professional bilingual tour guide English / Spanish.
Assistant tour guide (for groups of 9 or more people)
Hotel for 2 nights in Cusco.
Tour to the Sacred Valley of Incas.
Entrance Fee to Machu Picchu.
4 breakfasts, 4 lunches, 4 afternoon snacks, 4 dinners. " Vegetarian (vegan) food on request at no extra cost!
Cook. (Professional)
Drinking water along the Salkantay trail, only on meal times.
Dining tent with tables and chairs
1st Aid Kit
01 Oxygen Ball
Horses (to carry tents, food and cooking equipment)
Horse men
Quadruple & waterproof Camping tent "02 people only"
01 Sleeping Mattress per person
01 night in touristic hostel in Aguas Calientes "Machupicchu Village".
Return train tickets in Expedition Service (Machupicchu - Ollantaytambo and bus to Cusco) transfer to Hotel.
RESERVATIONS
For availability of spaces for this service, please contact us info@salkantaytrek.org and we`ll send you detailed information, prices, terms and conditions.
Please keep in mind that significant price reductions are available for groups. All our tours are fully guaranteed, departure every day. Contact us for more information for the tour that you are choosing, or to begin customizing your own itinerary. recommendations:
" Salcantay Trek Expeditions is a tour operator travel agency in Peru and the city of Cusco, We really know what we do and offer, We are well managed, with several offices in Peru and a long list of travel destinations , offering all travel alternatives in Perú, from family trips, honeymoon trips and luxury travel, including adventure tours and exploring trips to the jungle, for almost any budget"
NOTE: Inka Trail Expeditions Perú, specializes in organizing the ideal travel plan to Peru, with hotels and destinations that you choose, because we have all confidential and promotional rates. For guidance on how to organize your custom package. Please write us.