Classic Inca Trail to Machu Picchu in 4 Days
---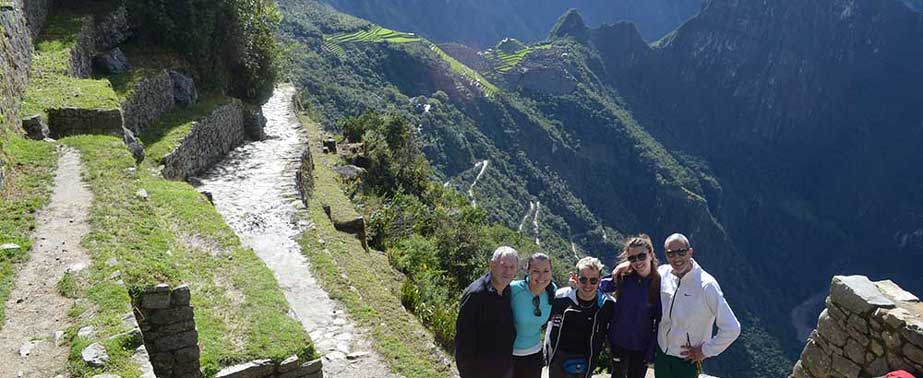 ---
Today the Classic Inca Trail to Machu Picchu - which, as part of the Machu Picchu Historical Sanctuary, has been designated a World Heritage natural and cultural site is the most important and most popular hiking trail in South America, followed by many thousands of ecotourists and modern-day pilgrims in the past 3 decades. Its extreme popularity in recent years -- more than 75,000 people a year hike the famous trail -- has led to concerns among environmentalists and historians that the trail is suffering potentially irreparable degradation.
The National Institute of Culture (INC) and the Ministry of Industry, Tourism, Integration, and International Trade (MITINCI), reacting to pressure from groups such as UNESCO (which threatened to rescind Machu Picchu's World Heritage Site status), instituted far-reaching changes in practices designed to limit the number of visitors and damage to Machu Picchu and the Inca Trail, though these alone may not be enough to forestall the trail's damage.
---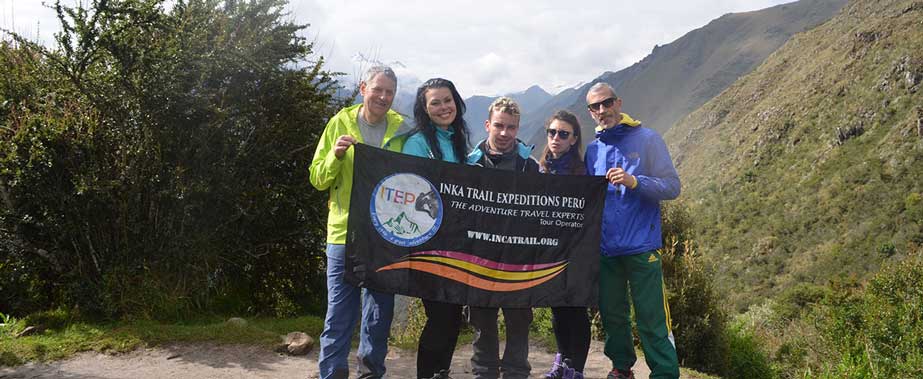 ---
Preparing with us your Inca Trail Experience
The Classic Inca Trail to Machu Picchu 4 days route is along hand-hewn stone stairs and trails through sumptuous mountain scenery and amazing cloud forest, past rushing rivers and dozens of Inca ruins. The zone is inhabited by rare orchids, 419 species of birds, and even the indigenous spectacled bear. The trek begins at Qorihuayrachina near Ollantaytambo- more easily described as Km 88 of the railway from Cusco to Aguas Calientes. The 43 km (26-mile) route passes three formidable mountain passes, including the punishing "Dead Woman's Pass", to a maximum altitude of 4,200m (13,800 ft.). Most groups enter the ruins of Machu Picchu at sunrise on the fourth day, although others, whose members are less keen on rising at 3:30am to do it, trickle in throughout the morning.
ITINERARY
Hiking the Classic Inca Trail is one of a lifetime experiences, hiking the passage that the Incas walked. People come from all over the world, not only to visit the spectacular Machu Picchu but to hike the renowned Inca Trail to Machu Picchu, the most famous trek in South America. Enjoy the wondrous, changing landscapes and scenery like mountains, cloud forest rich in flora and fauna. Be in awe and thrilled every step of the way visiting archeological sites and much more on route to the acclaimed Sanctuary of Machu Picchu to finally bask in its beauty and magic.
---
Day 1 : Cusco - Piscacucho (Km. 82) - Huayllabamba
---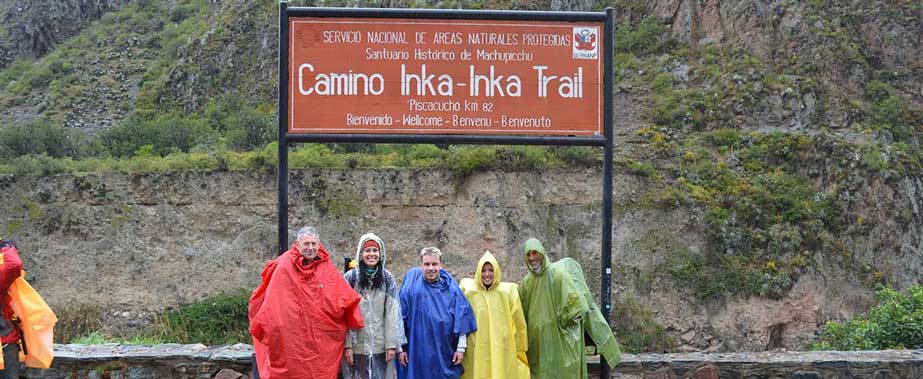 ---
6:mm am, early morning departure from Cusco to Piscacucho (2,663mt./8,735ft.) by bus. The trail meanders easily alongside the river with views of snow-capped peaks before reaching the ruins of Llaqtapata. There are views of the Urubamba mountain range and its most spectacular peak, Veronica (5,832mt./19,128ft). Campsite is at Huayllabamba (2,928mt./9,606ft).
Meals: Lunch, Dinner.
---
Day 2 : Huayllabamba - Warmihuañusca - Pacaymayo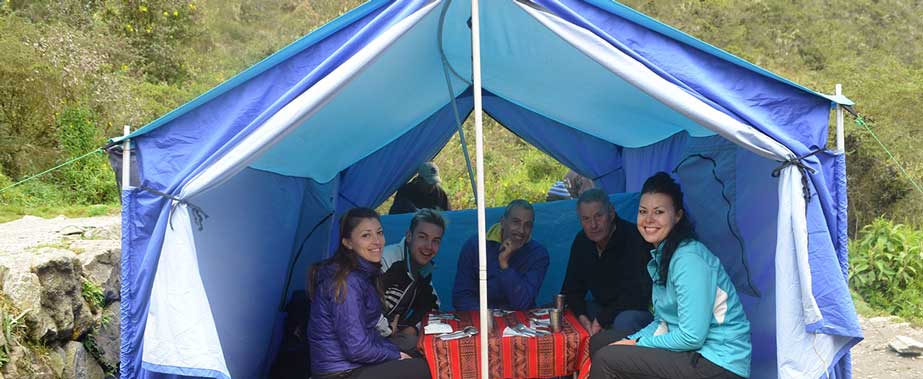 ---
Today will be the most strenuous part of the trek going up to Llulluchapampa where the hike becomes truly spectacular with scenery that more than compensates for the effort. Vegetation thins and the day warms on the approach to the highest point of the trail - Warmiwañusqa Pass (4,236mt./13,894ft). Camp on the Pacaymayo Valley (3,526mt./11,566ft).
Meals: Breakfast, Lunch, Dinner.
---
Day 3 : Pacaymayo - Runkuracay - Wiñaywayna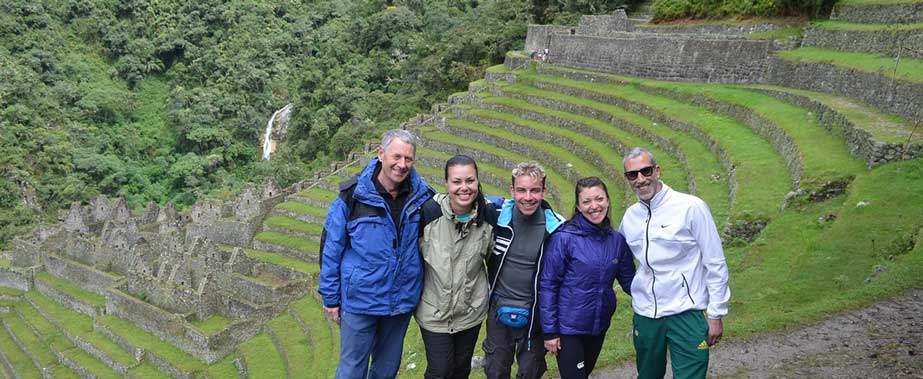 ---
The group climbs an Inca stairway to Runkurakay and begins the final push to the Runkurakay pass (3,962mt / 12,996ft.). After visiting the impressive ruins of Sayacmarca (3,657mt. / 11,998ft.), continue on to the Phuyupatamarca Ruins (3521mt. / 11,552ft). The trail becomes increasingly more dramatic as it leads down to the next campsite at Wiñaywayna.
Meals: Breakfast, Lunch, Dinner
---
Day 4 : Wiñayhuayna - Inti Punku - Machu Picchu - Cusco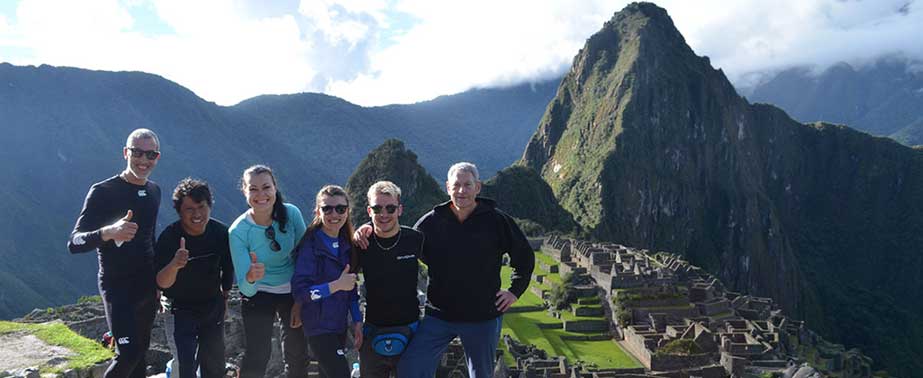 ---
Morning arrival to the spectacular Machu Picchu. After a professional guided tour, catch a bus to Aguas Calientes where the group boards a train for Cusco; a journey winding through the beautiful Urubamba River Valley. Transport to your hotel.
Meals: Breakfast, Lunch, Dinner.
Optional: If you would like to spend an extra day in Machu Picchu, please let us know so we can change the date on your return train ticket to Cusco. Inka Trail Expeditions Perú can provide a guide and hotel for the extra day at an additional cost. Please be aware that you will have to pay for a second day entrance ticket to the Machu Picchu Inca City.
End of our Services
INCLUDES
Transfers In / Out
Transportation Cusco - Km 82 "Piscacucho". (Start walking)
Professional bilingual tour guide English / Spanish.
Assistant tour guide (for groups of 9 or more people)
Entrance Fee to Machu Picchu.
3 breakfasts, 3 lunches, 3 afternoon snacks, 3 dinners. Vegetarian (vegan) food on request at no extra cost!
Cook. (Professional)
Drinking water along the Inka trail, only on meal times.
Dining tent with tables and chairs
1st Aid Kit
01 Oxygen Ball
Porters (to carry tents, food and cooking equipment)
Quadruple & waterproof Camping tent "02 people only"
01 Sleeping Mattress per person "thermal rest"
01 Bus ticket Machupicchu Inca City to Aguas Calientes.
Return train tickets in Expedition Service (Machu Picchu - Ollantaytambo and bus to Cusco)
NOT INCLUDES
1st Breakfast, Last Lunch
Extra Porters for carry personal staff (Optional US$ 130.00 per 4 days total 15 kilograms)
Other not mentioned
RESERVATIONS
For availability of spaces for this service, please contact us info@salkantaytrek.org and we`ll send you detailed information, prices, terms and conditions.
Please keep in mind that significant price reductions are available for groups. All our tours are fully guaranteed, departure every day. Contact us for more information for the tour that you are choosing, or to begin customizing your own itinerary. recommendations:
" Inka Trail Expeditions Perú is a tour operator travel agency in Peru and the city of Cusco, We really know what we do and offer, We are well managed, with several offices in Peru and a long list of travel destinations , offering all travel alternatives in Perú, from family trips, honeymoon trips and luxury travel, including adventure tours and exploring trips to the jungle, for almost any budget"
NOTE: Inka Trail Expeditions Perú, specializes in organizing the ideal travel plan to Peru, with hotels and destinations that you choose, because we have all confidential and promotional rates. For guidance on how to organize your custom package. Please write us.