Integrated Management System Policy
At Inka Trail Expeditions Peru E.I.R.L, we are a Peruvian company that since 2012, we offer tourist services complying with quality and environmental standards.

Our commitments to our Quality Management System are:
High technical capability
Strong commitment to providing timely service and the most comprehensive communication with internal and external customers.
Friendliness in service and agility in processes
Practical innovation and cost efficiency
Commitment to quality standards
Cooperative work and the overall development of individuals.
Our commitments to our Environmental Management System are:
Protecting the environment by monitoring environmental obligations.
Managing our projects with quality, effectiveness, and efficiency.
Creating a culture of environmental care and service quality among our employees through the implementation of induction programs, training, education, awareness, competency development, quality or improvement circles, and organizational culture measurement.
Complying with legal regulations and other requirements related to the environment and quality.
Promoting and ensuring that workers and their representatives are consulted and actively participate in the elements of the integrated environmental and quality management system.
Update: September 20th 2023
_______________________
William Escalante Taype
GENERAL MANAGER
Certificates
Certificate registration period from July 22nd 2023 to July 21st 2024
Certificate registration period from May 15th 2020 to May 14th 2023
Why Salkantay Trek?
We are travel experts.

Fully customizable Salkantay Trek.

24/7 support from our experts tours.
Contact Us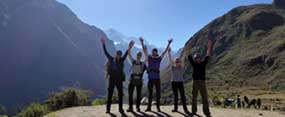 View Details
Please share in
---