"Short" Inca Trail to Machu Picchu + Huaynapicchu in 3 Days
---
---
The destination at the end of the Short Inca Trail is Machu Picchu, making the trek, although difficult in some parts, very rewarding! After your Inca Trail trek you can get a great view of the citadel after your Machu Picchu tour, you can also climb Huayna Picchu.
Availability for Inca Trail to Machu Picchu + Huayna Picchu 3 Days / 2 Nights
The Peruvian government has strict limitations on how many people are permitted to use the Inca Trail (permits are issued to about 200 trekkers per day and about 300 porters/guides with a total of 500 permits issued daily). We recommend booking the Inca Trail as early as possible, sometimes even 6 months in advance!
We also recommend booking the Inca Trail trek before booking your hotels, flights, etc., since Inca Trail permits are limited!
Daily departures are available throughout the year (March through January-February the Inca Trail is closed), even though the recommended period for this trek is April to October because it is the dry season.
All private service departure dates are adapted to your request any day you choose. Also contact us for group departure date availability.
---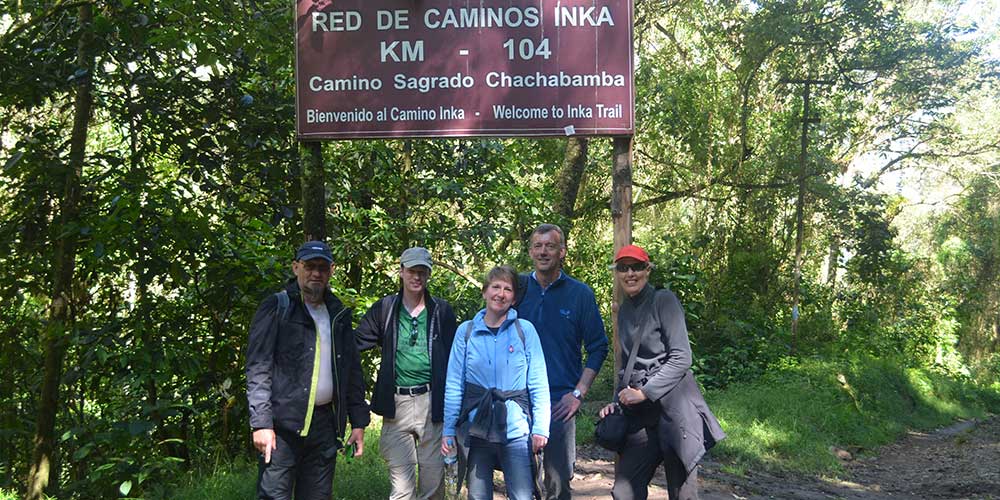 ---
ITINERARY
Day 1: Cusco – KM 104 – Wiñayhuayna – Aguas Calientes
---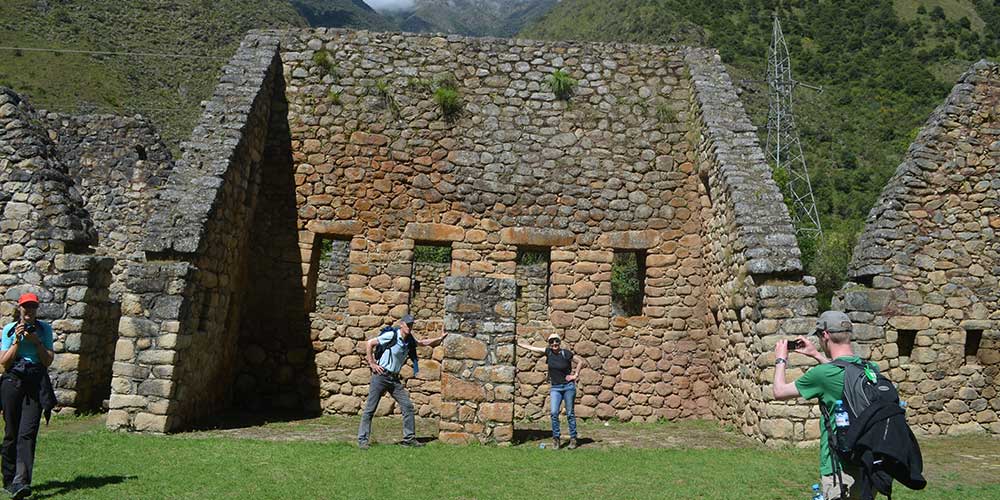 ---
We will start our first day of the Inca Trail trek by picking everyone up from their hotels in Cusco early in the morning. You may want to have your breakfast in your hotel before your pick up time, but you can also bring snacks to bring along the way. From Cusco you will go to Ollantaytambo to take a train to KM104 (Expedition class train). We´ll start the Inca trail trek at KM 104 which is also an official Inca Trail checkpoint. Here they will check your passport, Inca Trail permit and your ISIC if you booked your Inca Trail trek with a student discount.
At this official Inca Trail checkpoint the authorities will ask for your original passport, your Inca Trail permit and if you booked your Inca Trail trek with a student discount, you will need to show your original ISIC card (International Student Identity Card) as well. In the area there are some archeological remains we´ll visit called Chachabamba.
From this area it will take about 3 to 4 hours to hike steadily uphill to Wiñayhuayna. We´ll have a box lunch in Wiñayhuayna. You´ll also have the chance to visit an archeological site in the area. From here we´ll walk an additional 2 hours to get to Inti Punku also known as the Sun Gate in English.
From here we´ll have our first view of Machu Picchu so it will be a reat opportunity t take pictures before heading towards Machu Picchu. We´ll be in Machu Picchu at about 4:00pm and stay for a little while to take in the view of Machu Picchu and rest. From Machu Picchu we´ll take a bus down to Aguas Calientes. We´ll have a dinner together and stay overnight at our hotel.
---
Day 2: Aguas Calientes - Machu Picchu – Aguas Calientes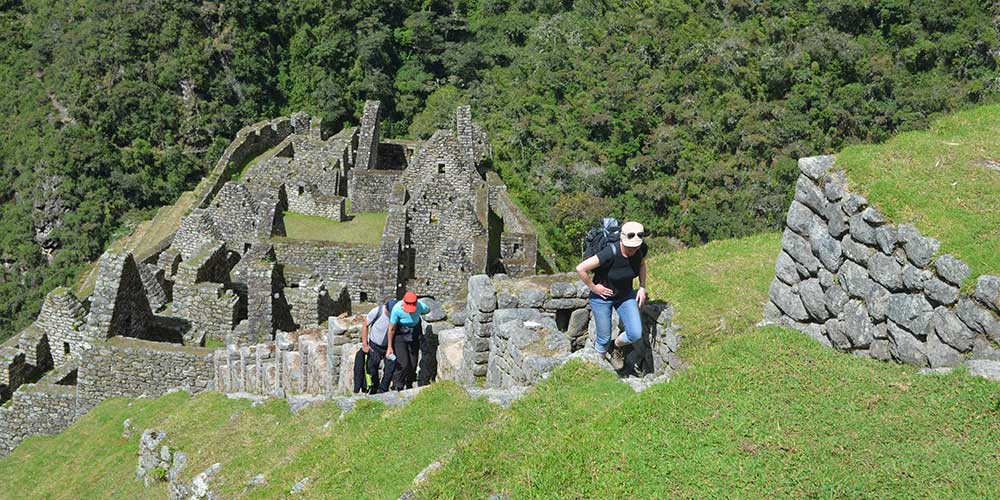 ---
We´ll start our second day with breakfast at 5:00am at our hotel and then head out to the bus station in Aguas Calientes to take a bus up to Machu Picchu. Machu Picchu is at an altitude of about 2400 meters. We´ll have a guided tour of Machu Picchu that will last about 2 hours and afterwards you´ll have time to roam around the ancient city on your own to soak up the magical atmosphere.
When you feel like you´ve seen most of the city for the day, you can take one of the busses back to Aguas Calientes to have the rest of the day to yourself to wander, buy souvenirs, or visit the local hot springs which has an entrance fee of 10 Peruvian Nuevos Soles. You´ll stay overnight in the same hotel.
---
Day 3: Aguas Calientes - Machu Picchu – Huayna Picchu - Aguas Calientes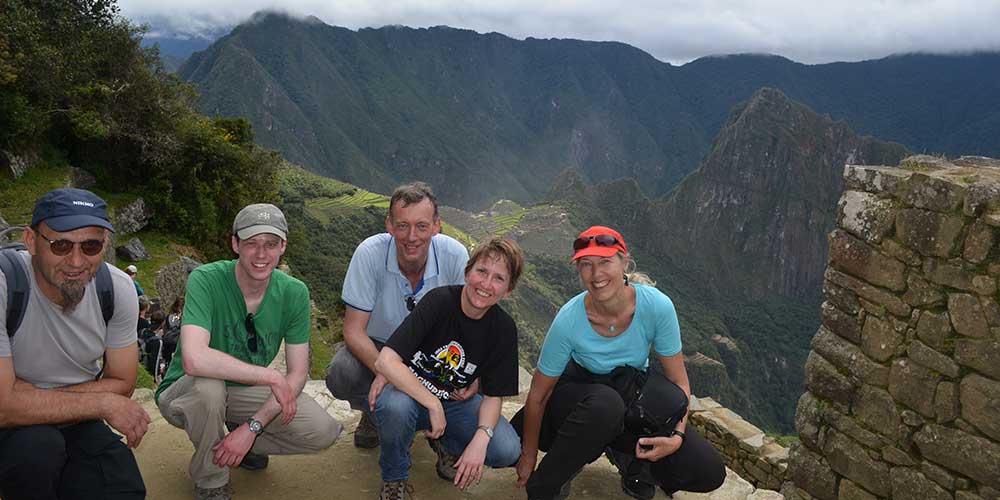 ---
Today we´ll start with a breakfast at the hotel before we head back to Machu Picchu. We´ll take a bus from Aguas Calientes to Machu Picchu. Depending on your entrance time for Huayna Picchu you can walk around for a while before entering, but they are very strict about the entrance times, so make sure to be on time! You will need to show your entrance ticket for Huayna Picchu and your passport. If you had a student discount when you booked, you will also need to show your Student Visa.
It should take about 45 minutes to get to the top and once there you can rest from the strenuous and daunting climb up the mountain as well as enjoying the wonderful view of Machu Picchu and the surrounding mountains and valley. After climbing back down to Machu Picchu you can roam around Machu Picchu again or you can go back to Aguas Calientes right away. You can take a bus down to Aguas Calientes and from there, depending on your train schedule take your Expedition train to Ollantaytambo. In Ollantaytambo you will be picked up and driven back to Cusco.
Note: The time table for the trains may change according to the train company´s availability. There will also be changes to your itinerary and price if you decide to change your departure time, or upgrade to the Vistadome Train. If you booked later than most of your group for your Inca Trail Trek to Machu Picchu, you may not be in the same train as the rest of your group.
End of our Services
INCLUDES
Briefing (usually scheduled one or two days before your trek).
Train (Expedition Class) from Ollantaytambo to Km 104.
Inca Trail entrance ticket.
Machu Picchu entrance ticket.
Huayna Picchu entrance ticket.
First Aid basic equipment and oxygen for emergencies.
Professional bilingual (Spanish / English) guide (guides who speak other languages upon request).
Meals: 2 breakfasts, 1 lunch, 1 dinner (vegetarian, vegan, etc. dietary requirements available if requested during time of booking at no extra charge).
3 Bus ticket from Machu Picchu to Aguas Calientes and vice versa.
Expedition Train from Aguas Calientes to Ollantaytambo (see note about train availability, changes in times, etc.)
Transportation from Ollantaytambo to Cusco.
2 nights in hotel in Aguas Calientes.
NOT INCLUDES
Breakfast Day 1, Lunch and dinner on the last two days.
Entrance fees for Thermal Baths in Aguas Calientes (USD $ 4).
Porter to carry your personal belongings.
Backpack storage at Machu Picchu (3 soles).
Activities and items not included in the itinerary.
ROUTE ON GOOGLE MAPS
---
360 VIEW IMAGE OF HUAYNA PICCHU
RESERVATIONS
For availability of spaces for this service, please contact us info@salkantaytrek.org and we`ll send you detailed information, prices, terms and conditions.
Please keep in mind that significant price reductions are available for groups. All our tours are fully guaranteed, departure every day. Contact us for more information for the tour that you are choosing, or to begin customizing your own itinerary. recommendations:
" ITEP Eco Travel is a tour operator travel agency in Peru and the city of Cusco, We really know what we do and offer, We are well managed, with several offices in Peru and a long list of travel destinations , offering all travel alternatives in Perú, from family trips, honeymoon trips and luxury travel, including adventure tours and exploring trips to the jungle, for almost any budget"
NOTE: ITEP Eco Travel, specializes in organizing the ideal travel plan to Peru, with hotels and destinations that you choose, because we have all confidential and promotional rates. For guidance on how to organize your custom package. Please write us.