Lares Trek to Machu Picchu in 4 days
---
---
Lares is a valley near the city of Cusco, is home to people who weave and cultivate the land (Weavers and farmers), they do things traditionally and also speak Quechua and Spanish, their tissues do manually, both knitting and cultivate use ansestratales tools used by the Incas.
The Lares trek is one of the main alternatives to the Inca Trail and Salkantay Trek, is a shorter leisurely walk, is close to the city of Cusco, besides that there is no special permits for the tour, also is quieter than the Inca Trail and we have for you the classic 4 day hike that we assure you that you will love it very much.
Lares is located in Cusco, this remote and rarely visited region offers the trekker an insight into traditional Andean life; a timeless world where farmers plant their crops on the lands their ancestors tended and watch over herds of llama and alpaca beneath the sacred snow-covered peaks they worshipped as gods. The trail is one of the Inca trails from the time of the Inca Empire.
Today, the trail is still in use by farmers, who are Inca descendents. The trail connects the communities of Cuncani, Huacahuasi, Quisuarani, Patacancha and Lares with life in the Sacred Valley. On the third day, we'll take the afternoon train to Machu Picchu Pueblo (Aguas Calientes), having a full day to explore the Machu Picchu Sanctuary the next day.
ITINERARY
Hiking to the native community of the Lares Valley is a wonderful trek and an unforgettable experience. Lares is the name of a small village on the highlands, north of Cusco city, to arrive there we need to make a nice trekking tour. We start on the Sacred Valley of the Incas in Huaran and climb inside a narrow valley, there you will have the opportunity to see thatched stone houses surrounded by herds of llamas and alpacas. Inside the houses you will see some guinea pigs running loose. This hike, takes place on a hidden valley that very few outsiders have ever heard of or entered.
This unforgettable and less-known hike (Lares Trek) combines amazing mountain scenery, glacier lagoons, valley cloud-forest and authentic textile Quechua communities to end up in the village of Lares, where you will enjoy its fabulous hot springs. A unique hike to get in touch with Andean people and learn about their traditions and life-style.
Day 1 : Cusco - Huacacasi - Lares' Hot Springs - Huaca Wasi
---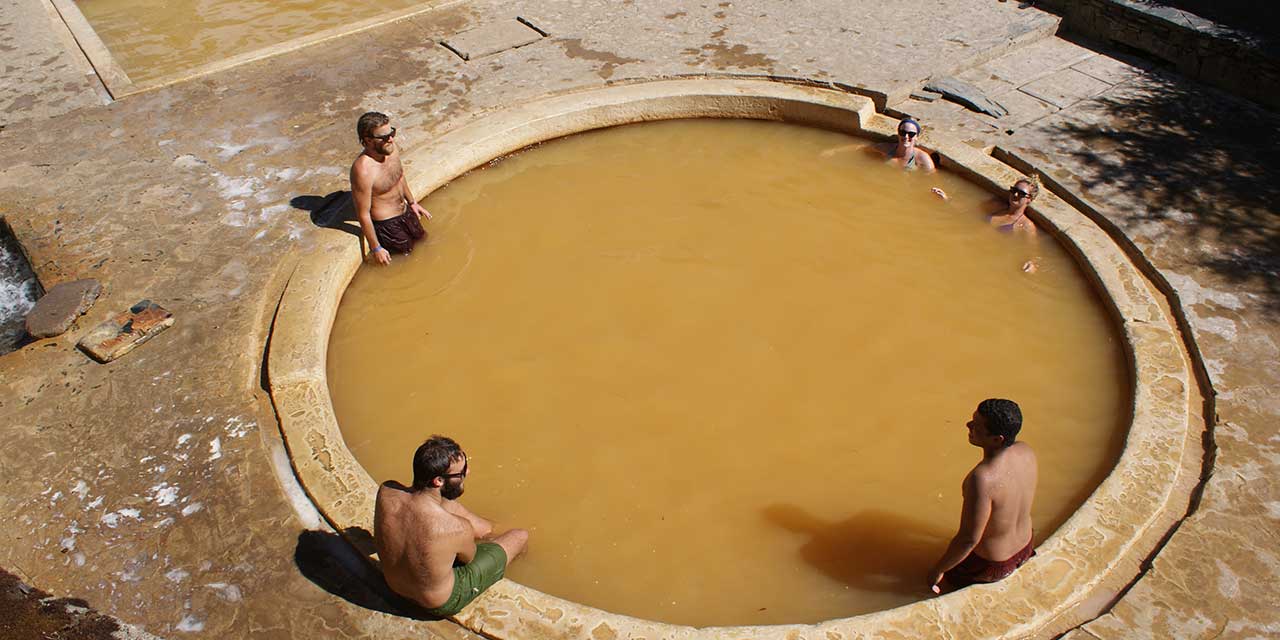 ---
We'll leave early in the morning by bus from Cusco. During the transport we'll pass a lot of archaeological remains, local handcraft-markets as well as large tracks of cultivated lands inside the Sacred Valley of the Incas. The Sacred Valley is one of the most fertile places in South America with one of the best products such as maize which is the first export-product of this area.
Halfway the Sacred Valley we'll enter and visit in the province of Calca (high 2940m) where we'll change roads and ride up to the highest part of this trek called Huacacasi (4400m). After this pass we'll be going down to the little populated Lares Valley (high 3250m). A few moments later we'll arrive and visit at the hot medicinal springs of Lares (3200m). Here we'll have time to enjoy each bath with different natural charms and temperatures between 28 and 34 degrees Celsius. After lunch at the hot baths we'll start hiking until Huaca Wasi (high 3600m) where we'll camp for the night.
Our transport-time will be around 5 hours. Our trekking time will be about 3 hours in a rather cold climate.
Meals: Lunch, Dinner.
---
Day 2 : Huaca Wasi - Abra Ipsay - Patacancha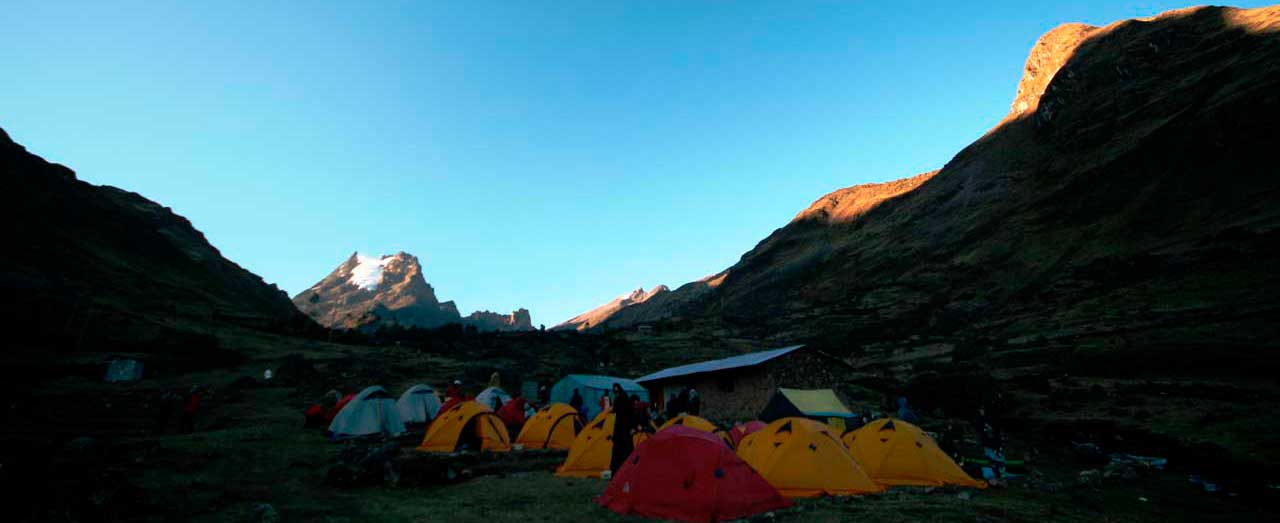 ---
Today is the toughest day on the Lares trek: After early breakfast we start trekking with a moderate up-hill climb to reach to the highest point of our trek, Ipsay Pass (4,550m/15,017ft). From here we enjoy the spectacular views of snow-capped mountains, lakes, isolated communities, Andean locals, llamas and alpacas.
After time to enjoy this beautiful sight, we descend to Ipsay Lagoon for lunch. Then continue downhill interacting with the real descendant of the Incas. Finally we arrive to our camp at Patacancha (3,750m/12,377ft), where we'll spend the night in a hotel.
Meals: Breakfast, Lunch, Dinner
---
Day 3 : Patacancha - Willoq - Pumamarca - Ollantaytambo - Aguas Calientes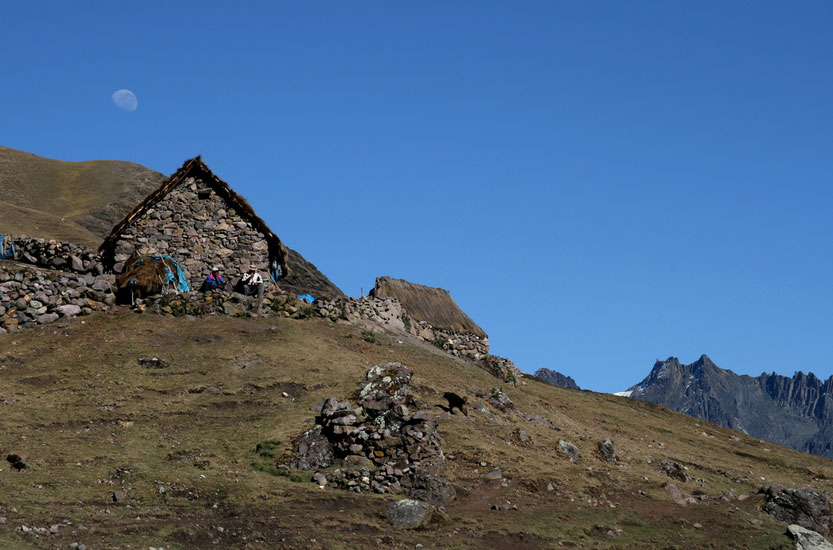 ---
Another day of hiking where we'll pass local communities and small villages such as Willoq (3400m), Pumamarca (3200m) and many others. From Patacancha through the landscape, crossing these villages we can taste the traditions and habits passed on by our ancestors throughout the times of the Tahuatinsuyo Empire (the Inca-culture and traditions).
After a couple of hours hiking and visiting the land we'll arrive at Ollantaytambo (2850m) that speaks from its archeological sites, a wide story of Andean history and anthropology of these times. From Ollantaytambo we'll take the train to Aguas Calientes (2050m), the touristical town build beneath the ruins of Machu Picchu where we'll spend the night in a hotel.
Meals: Breakfast, Lunch, Dinner.
---
Day 4 : Aguas Calientes - Machu Picchu - Cusco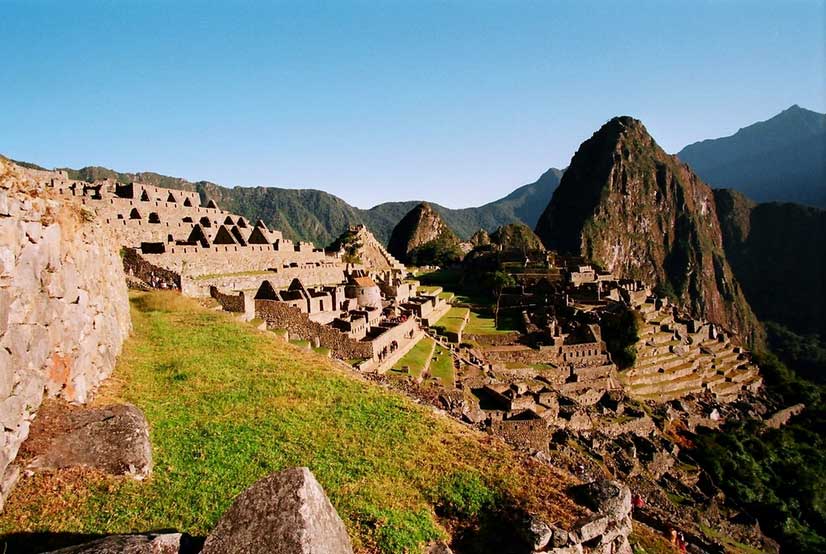 ---
After an early rise and breakfast we'll take the first bus up to the archeological complex of Machu Picchu (high 2400m). A few moments later we'll enter this untouched Inca-sanctuary to have a guided tour with a professional guide. After this tour that will last for about two hours you'll have plenty of time to wonder around the ruins by yourself… And for the bravest among us there is always the ascension to Huayna Picchu or the nearby Temple of the Moon. We'll all meet afterwards to go down to Aguas Calientes (2050m) where we'll take our train back and bus to Cusco.
Meals: Breakfast, Lunch, Dinner
Optional: If you would like to spend an extra day in Machupicchu, please let us know so we can change the date on your return train ticket to Cusco. Inka Trail Expeditions Perú can provide a guide and hotel for the extra day at an additional cost. Please be aware that you will have to pay for a second day entrance ticket to the Machupicchu Inca City.
End of our Services
INCLUDES
Transfers In / Out
Transportation Cusco - Lares Village. (Start walking)
Professional bilingual tour guide English / Spanish.
Assistant tour guide (for groups of 9 or more people)
3 breakfasts, 3 lunches, 3 afternoon snacks, 3 dinners. " Vegetarian (vegan) food on request at no extra cost!
Cook. (Professional)
Drinking water along the Lares Trek, only on meal times.
Dining tent with tables and chairs
1st Aid Kit
01 Oxygen Ball
Horses (to carry tents, food and cooking equipment) and Horse man
Quadruple & waterproof Camping tent "02 people only"
01 Sleeping Mattress per person "thermal rest"
Train in Touristic Service to Machu Picchu R.T.
01 night tourist hostal in Aguas Calientes
01 bus ticket to Machu Picchu inca city
Entrance Fee to Machu Picchu
NOT INCLUDES
1st Breakfast, Last Lunch
Other not mentioned
RESERVATIONS
For availability of spaces for this service, please contact us info@salkantaytrek.org and we`ll send you detailed information, prices, terms and conditions.
Please keep in mind that significant price reductions are available for groups. All our tours are fully guaranteed, departure every day. Contact us for more information for the tour that you are choosing, or to begin customizing your own itinerary. recommendations:
" ITEP Eco Travel is a tour operator travel agency in Peru and the city of Cusco, We really know what we do and offer, We are well managed, with several offices in Peru and a long list of travel destinations , offering all travel alternatives in Perú, from family trips, honeymoon trips and luxury travel, including adventure tours and exploring trips to the jungle, for almost any budget"
NOTE: ITEP Eco Travel, specializes in organizing the ideal travel plan to Peru, with hotels and destinations that you choose like in this page, because we have all confidential and promotional rates. For guidance on how to organize your custom package. Please write us.
This page contains detailed information of the tour of Lares 4 days , also you will find on this same page each day's itinerary. Please contac us by Contact Page to recieve more information about this trekking.