Cusco Explorer in 7 days / 6 nights
---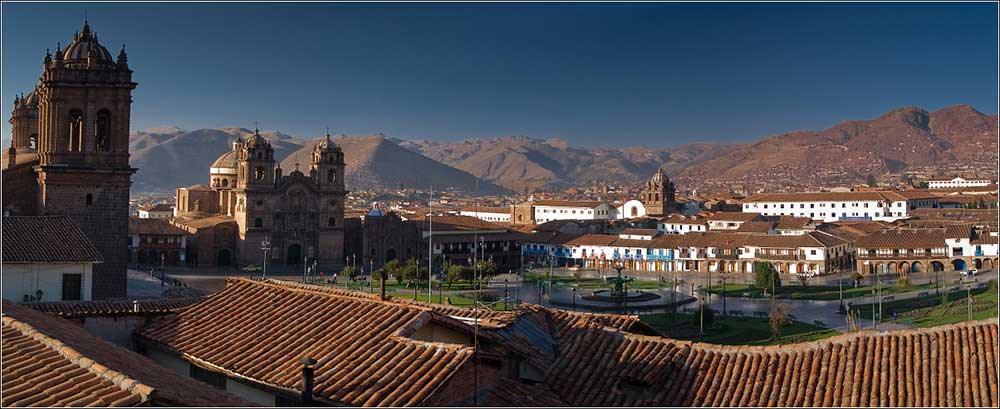 ---
This tour is for the nature lovers, who care about the unique connection between man and mother earth "Pachamama" and who are convinced that the adventure is part of their being.
This program is perfect for you. The Cusco Explorer combines the beauty of Cusco, the Sacred Valley of the Incas, the Peruvian Andes crossing over to Inca Trail and reaching the city of Machu Picchu.
This trek is often known as "Cusco the seven days.
ITINERARY
(Included a full day in Machupicchu)
Day 1 : Arrival in Cusco and city Tour
---
---
Arrival and transfer in Cusco
At the schedule time, our uniformed personnel will be waiting for your arrival at Cusco airport or the bus terminal, carrying a sign with your name on. We will then take you to the hotel. The tourist mobility for the service we offer is fully equipped for your comfort. Travel time will vary depending of the location of your hotel.
Arrival at the hotel, registration and accommodation.
Later.
13:30 pm CITY TOUR.
We will pick you up from your hotel at 14:00 pm to begin our tour of the city, where our professional guide will provide you with the necessary information on all the attractions that we will visit. The tour guide will be attentive to any questions and / or needs that each of our visitors require.
Places to be visited:
First, the main temple of the Sun known as the "Qoricancha". Secondly, "Sacsayhuaman" known as the head of the Puma in reference to the city of Cusco which was built in the shape of a Puma, and the head of the puma was exactly Sacsayhuaman. After we will visit Qenqo temple in honor of mother Earth or Pachamama. We then continue with our bus to Pucapucara that, in Incas time, was an entry control to the sacred city of Cusco. Finally, a visit of Tambomachay Inca temple in honor of the natural element of water.
We then return to Cusco. It will be up to you to decide to either stay in the main beautiful square of Cusco or be taken to your hotel.
---
Day 2 : Sacred Valley of the Inkas Tour
---
8:30 a.m. We will pick you up from your hotel to start our tour of the Sacred Valley of the Incas. We will leave town to reach the viewpoint of Taray, from there we can enjoy the beautiful Inca terraces and existing farmland which surround the sacred river of the Incas "Willcamayuc". After that, we´ll visit Pisaq the archaeological Park, also the Indian market which is as colorful as the local people.
The Pisaq Andean Market is the best place to shop for crafts and souvenirs.
We will, after some free time, continue our journey to the village of Urubamba, where will have lunch at a delicious buffet.
Continuing our journey we'll reach the last living Inca town "Ollantaytambo".
Ollantaytambo is remembered as a mythical love story, a drama of love that prevails against all obstacles. It is believed that this city was built by General Inca Ollanta in a time of rebellion against the Royal army of the Inca to prevent the capture of the beautiful princess Cusi Qoyllor, known as "beautiful star".
After a 40 minutes' drive, we will reach Chinchero surrounded by the colonial houses, where we will again discover the magnificence of the Incan constructions, terraces and the beauty of the local people in their traditional dresses, all surrounded by the local temple, where you'll admire the painting of local people who later where known as the creator of the Escuela (School).
Cusqueña founders. The Colonial church which is rich in art and jewelry and well appreciated by their population.
Lunch is included on this tour in the town of Urubamba.
19:00pm Arrival in Cusco and transfer to your hotel.
Overnight in Cusco.
---
Day 3 : Ollantaytambo -Km 82 - Piscacucho - Wayllabamba
---
6:30 a.m. Our guide will arrive at your hotel and you will take a bus to Km 82 where we will arrive around 7:00 am. Once there, you will be glad to meet the team that will accompany you during the trek, such as porters, camp assistants, cooks, etc. We will then start walking.
On the first day the first km is pretty easy. You will have a beautiful view of Veronica mountain and a walk along the river Vilcanota until Patallacta archaeological site. After having lunch, we will continue until Huayllabamba where we'll set up camp for our first night.
Meals: Lunch, Teatime, Dinner.
---
Day 4 : Wayllabamba - Llucllubamba - Pacaymayo
---
Right after breakfast, we will begin the hike early in the morning of the second day. This is may be the most difficult day. We will climb the Warmiwañusca or Dead Woman's Pass (4,200 m.s.n.m), the highest point of our trip, from there the panoramic view of the snowcapped mountains is spectacular. After lunch, we will descend towards the second camp in Pacaymayu.
Meals: Breakfast, Lunch, Teatime, Dinner.
---
Day 5 : Pacaymayo - Phuyupatamarca - Wiñaywayna
---
In early morning, after a delicious breakfast we will go back to the path. We will head off towards Runkuracay to visit its archaeological remains, and then continue hiking to the 3,900- meter mountain pass which has the same name. From there we begin our descent to the ruins of Sayacmarca. After lunch, our hike takes us to Wiñay Wayna, which is going to be the last night in camp.
Optional: You can use the showers of the restaurant that exists in the place, it is up to you to have a cold or hot shower.
Meals: Breakfast, Lunch, Teatime, Dinner.
---
Day 6 : Wiñaywayna - Machu Picchu
---
After breakfast, we continue hiking to get to Intipunku (Door of the Sun), where there is a spectacular panoramic view of the citadel of Machu Picchu. We, then, descent to the city of Machu Picchu and start the walking tour (approximately 2hours) with your guide. You then can explore the mysterious city by yourselves. You can climb Wayna Picchu (2720m/8923ft), if you still have energy!! It takes about 45 minutes to get the top, this walk is optional and you might need to skip the Machu Picchu tour to be able to get a permit to climb this mountain. We will take the bus to the village of Aguas Calientes to spend the night in a standard hotel.
You will meet your guide in Aguas Calientes. Optional evening: visit to the Hot Springs. Entrance fees US$ 4 (10 soles). Overnight in Machupicchu Village (Aguas Calientes).
Meals: Breakfast.
---
Day 7 : Machu Picchu - Cusco
---
After breakfast we will board the train back to Ollantaytambo. We will board the Expedition train (to Ollantaytambo) and a bus to Cusco. Arrival in Cusco around noon.
Meals: Breakfast.
END OF OUR SERVICES
INCLUDES
Transfer in/out (airport – hotel – airport)
Excursion of the City tour in Cusco.
Tour of the Sacred Valley of the Incas.
Transportation Cusco-KM 82 "Piscacucho". (Start walking)
Professional bilingual tour guide English /Spanish.
Assistant tour guide (for groups of 9 or more people)
Entrance Fee to Machu Picchu.
3 breakfasts, 3 lunches, 3 afternoon snacks, 3 dinners. " Vegetarian (vegan) food on request at no extra cost!
Cook. (Professional)
Drinking water along the Inka trail, only on meal times.
Dining tent with tables and chairs
1st Aid Kit
01 Oxygen Ball
Porters (to carry tents, food and cooking equipment)
Quadruple & waterproof Camping tent "02 people only"
01 Sleeping Mattress per person "thermal rest"
01 Bus ticket Machupicchu Inca City to Aguas Calientes.
Return train tickets in Expedition Service (Machupicchu - Ollantaytambo and bus to Cusco)
NOT INCLUDES
1st Breakfast, Last Lunch
Extra Porters or Horses for carry persona staff (Optional US$ 80.00 per 4 days)
Other not mentioned
RESERVATIONS
For availability of spaces for this service, please contact us info@salkantaytrek.org and we`ll send you detailed information, prices, terms and conditions.
Please keep in mind that significant price reductions are available for groups. All our tours are fully guaranteed, departure every day. Contact us for more information for the tour that you are choosing, or to begin customizing your own itinerary. recommendations:
" Salcantay Trek Expeditions is a tour operator travel agency in Peru and the city of Cusco, We really know what we do and offer, We are well managed, with several offices in Peru and a long list of travel destinations , offering all travel alternatives in Perú, from family trips, honeymoon trips and luxury travel, including adventure tours and exploring trips to the jungle, for almost any budget"
NOTE: Inka Trail Expeditions Perú, specializes in organizing the ideal travel plan to Peru, with hotels and destinations that you choose, because we have all confidential and promotional rates. For guidance on how to organize your custom package. Please write us.