Short Inca Trail to Machu Picchu in 2 Days
---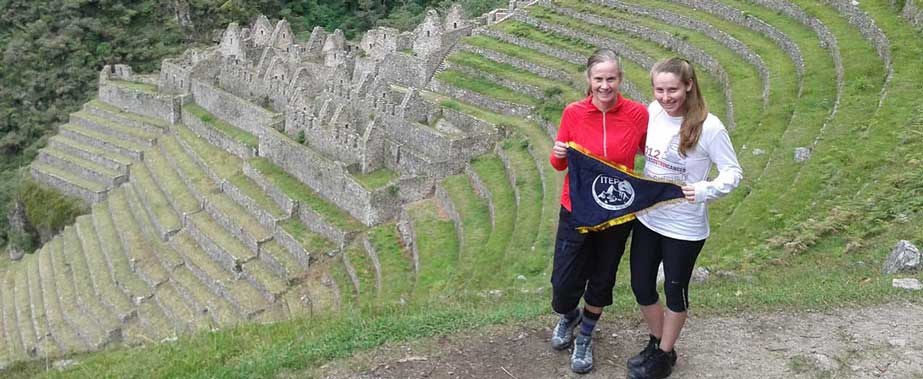 ---
Preparing with us your Inca Trail Experience
This trek is often known as "the two day Inca Trail to Machu Picchu", "the Sacred Inca Trail to Machu Picchu" or the "Camino Real de los Incas".
The trek starts at Km 104 (104 kilometers along the railway from Cusco) and involves a four hour walk uphill to Wiñay Wayna and a couple of hours further to Machu Picchu making it ideal for trekkers wanting to experience at least a part of the Inca Trail but haven't got the time (or energy) to complete the full 4 day trek.
As with the 4 day version of the Inca Trail, regulations introduced in 2002 have prevented individuals from doing the trek solo. The majority of the new regulation sapply for the 2 day trek.
In the past trekkers have always been able to spend the first night of the trek at the basic hostal located at Wiñay Wayna. However due to many complaints about the standard and cleanliness of this hostal the hostal was closed at the end of 2004. This means that trekkers must now continue their trek all the way to Machu Picchu and spend the night in a hotel in Aguas Calientes. Groups then return to Machu Picchu for a guided tour on the second day.
This itinerary is rated moderate and should only be undertaken by people who are fairly fit and take regular exercise. The trek starts at 2100m (KM 104) and climbs to 2700m (Wiñay Wayna) before descending to 2400m (Machu Picchu). Since the trek is carried out at a much lower altitude than the Short 2 day Inca Trail trek you do not need to worry about acclimatization as much, although many people still find themselves short of breath when arriving at Wiñay Wayna so this trek should certainly not be considered an easy option.
Apart from the waterfalls just before Wiñay Wayna there are no other places to refill your water bottle up (purify before drinking). Therefore it is recommended that you start the trek with at least 1.5 litres of water.
This route is open in February when the Classic 4 day Inca Trail is closed.
---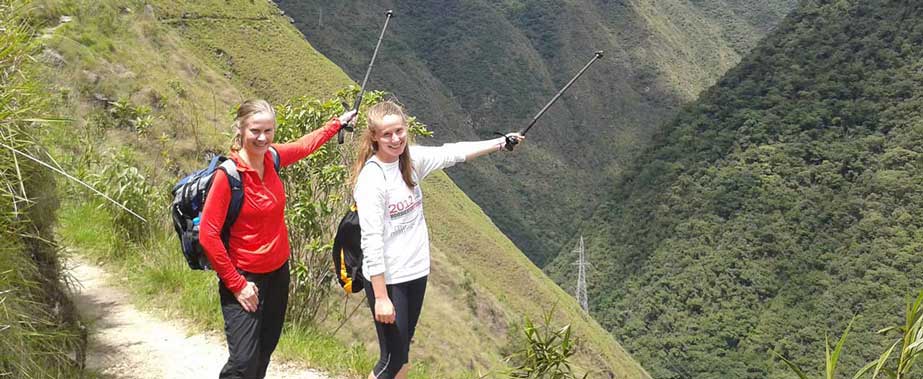 ---
ITINERARY
Trekking the Classic Inca Trail to Machu Picchu is one of a lifetime experiences, hiking the passage that the Incas walked. People come from all over the world, not only to visit the spectacular Machu Picchu but to hike the renowned Inca Trail (Inka Trail), the most famous trek in South America. Enjoy the wondrous, changing landscapes and scenery like mountains, cloud forest rich in flora and fauna. Be in awe and thrilled every step of the way visiting archeological sites and much more on route to the acclaimed Sanctuary of Machu Picchu to finally bask in its beauty and magic.
Day 1 : Cusco - Chachabamba (Km. 104) - Wiñayhuayna - Machu Picchu Village
---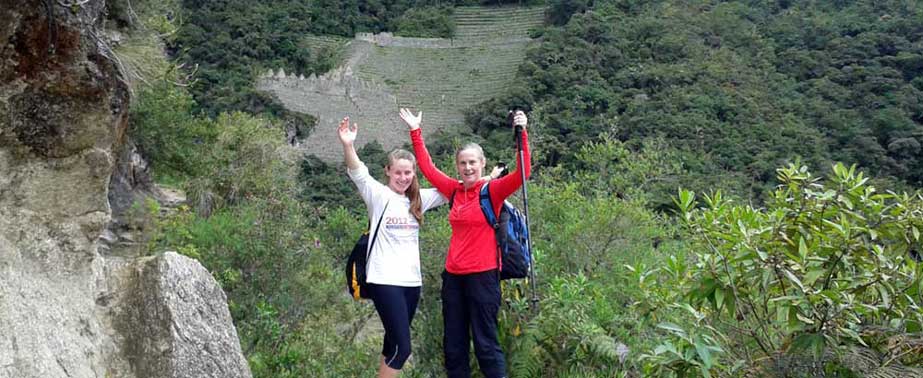 ---
We leave Cusco at 4:00AM in our company vehicle to the Ollantaytambo train station, where we'll board the Expedition Train for a 1.45 hr ride to km. 104 (hike start). Upon arrival, we will cross a bridge to the checkpoint to present our passports and have our information verified.
Then we will start an easy walk to the other side of the Vilcanota River, where the trail veers off to the right towards the ruins of Chachabamba located on the old Inca Road that ran along the southern bank of the Urubamba River. After our visit we'll continue the trail south and begin climbing the mountain before entering the cloud forest. Then the trail leaves the forest and goes West while continuing the uphill hike in open grasslands.
After hiking in the sun for about 3 hours, the trail descends into a shaded forest where we will enjoy a refreshing waterfall. Following our break, we continue to the lower part of the incredible ruins of Wiñaywayna. It is recommended that you start the trek with at least 2 liters of water. After lunch in Wiñaywayna, we continue through a beautiful cloud forest full of colorful bromelias, orchids and ferns.
You will walk the last part of the trail along superb, stone steps and tambos (resting places). Then climb 60 steps before arriving to the famous Inti Punku (Sun Gate). From this magnificent point, you will see the extraordinary magical Machu Picchu before you. Feel the energy and warmth of this surreal sanctuary while taking some unforgettable pictures. Then we'll take a 25 minute bus ride to Aguas Calientes to spend the night and reminisce over our exciting hike.
Meals: Lunch, Dinner.
---
Day 2 : Machu Picchu Inca City – Bus To Cusco.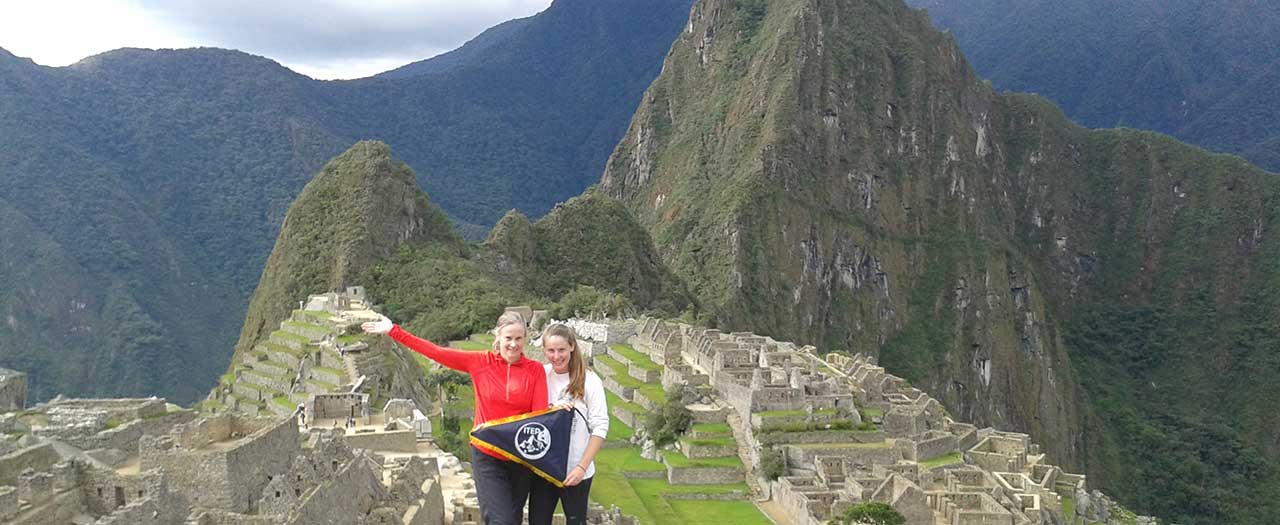 ---
Very early in the morning, after breakfast we take the the first bus at about 6:15 am arriving in Machu Picchu at around 7:00am to see the lovely sun rise over the mountains. Here we will re-live the history and the mysterious world of the Incas. At this time there isn't much of a crowd, so we can take advantage of the tranquility of this sacred site. We will explore this enigmatic city for approximately 2 hours, while listening to the guide recount the mysteries and archaeological history of this sanctuary. Then you will have 4 hours of leisure to possibly climb Huayna Picchu or continue your exploration of this massive site. Please consult with your guide for the time to be at the train station for your departure so you will have ample time to have lunch or soak in the thermal waters in Aguas Calientes.
Meals: Breakfast
Optional: If you would like to spend an extra day in Machu picchu, please let us know so we can change the date on your return train ticket to Cusco. ITEP Eco Travel can provide a guide and hotel for the extra day at an additional cost. Please be aware that you will have to pay for a second day entrance ticket to the Machupicchu Inca City.
End of our Services
INCLUDES
Transfers In / Out
Transportation Cusco - Ollantaytambo train Station.
Expedition train Service to Km 104 "Chachabamba". (Start walking)
Professional bilingual tour guide English / Spanish.
Assistant tour guide (for groups of 9 or more people)
Entrance fees to Inka trail.
Entrance Fee to Machu Picchu.
1 breakfast, 1 lunch,1 dinner. Vegetarian (vegan) food on request at no extra cost!
1st Aid Kit
01 Oxygen Ball
01 night in touristic hotel in Machu Picchu village
01 Bus ticket Machupicchu Inca City to Aguas Calientes.
Return train tickets in Expedition Service (Machupicchu - Ollantaytambo and bus to Cusco)
NOT INCLUDES
1st Breakfast, Last Lunch
Extra Porters for carry persona staff (Optional USD $ 100.00 per 1 day total 15 kilograms)
Other not mentioned
RESERVATIONS
For availability of spaces for this service, please contact us info@salkantaytrek.org and we`ll send you detailed information, prices, terms and conditions.
Please keep in mind that significant price reductions are available for groups. All our tours are fully guaranteed, departure every day. Contact us for more information for the tour that you are choosing, or to begin customizing your own itinerary. recommendations:
"ITEP Eco Travel is a tour operator travel agency in Peru and the city of Cusco, We really know what we do and offer, We are well managed, with several offices in Peru and a long list of travel destinations, offering all travel alternatives in Perú, from family trips, honeymoon trips and luxury travel, including adventure tours and exploring trips to the jungle, for almost any budget"
NOTE: ITEP Eco Travel, specializes in organizing the ideal travel plan to Peru, with hotels and destinations that you choose, because we have all confidential and promotional rates. For guidance on how to organize your custom package. Please write us.