Machu Picchu Tour - full day
---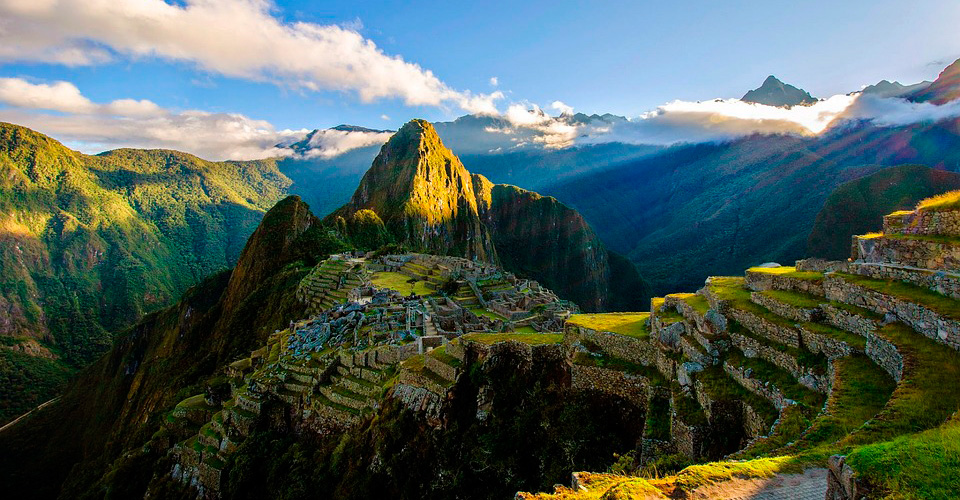 ---
"With Expedition Train Service : USD $ 295.00 per person. The Adventure Starts in the Journey
"With Panorámic Vistadome Train : USD $ 375.00 per person "A journey for your senses"
One day visit to one of the wonders of the world, Machu Picchu.
The beautiful Machu Picchu Inca citadel was built in the fifteenth century by Inca Pachacutec, this impressive archaeological monument was considered a Royal hacienda destined to the cult of the Gods and a challenge to the ruling skills builders.
Built as a refuge for the elite of the Inca aristocracy, is considered one of the seven wonders of the world since 2007 and is located at 2430 meters altitude in the Urubamba river valley. Visiting this place is for you an unforgettable experience ever imagined.
This trek is often known as "the twenty one day to Machu Picchu Tours"
ITINERARY
EVERY DAY from 5:00 am. to 10:30 pm.
05:00 am Transfer from your hotel in Cusco to train station of Ollantaytambo
07:00 am Tourist Train to Machu Picchu village (Aguas Calientes)
10:00 am Tour Machu Picchu Inca City
02:00 pm Lunch on Aguas Calientes
03:00 pm Hot spring on Aguas Calientes (optional)
04:22 pm Tourist Train from Aguas Calientes to Ollantaytambo
06:00 pm Transfer from train station of Ollantaytambo to Cusco
DETAILS
Meals provided = (L) Lunch
Day 1 : Cusco – Machu Picchu - Cusco
---

---
Pick up from your accommodation at 05:00 am. Early in the morning transfer to the train station in Ollantaytambo. At 05:30 am boarding the train bound for the majestic sanctuary of "Machu Picchu", which since 2007 was considered a world wonder.
During the tour we will appreciate the beauty of the valleys and the indigenous people of the area, up to Machu Picchu town, or better known as Aguas Calientes. Then we will take you on a tour bus for about half an hour to the sanctuary. After rigorous check the admission booth, begins our unique experience in life, we are facing this amazing world heritage monument.
Our guide starts visiting the Inca complex, in the Temple of the Sun, where their main trade is observed, then the Intihuatana, the sacred rock group, the Temple of the Three Windows, the mausoleum, among other places of interest for tourists. This will give the tourist free time to take photos, scroll on their own wherever your interests take you.
In Machu Picchu town you can walk, go to places where they sell crafts, to the Plaza de Armas and others places, until the time to board the train back to Cusco. Around 10:00 pm, we will take the train back to Ollantaytambo where our tourist transport awaits us to go to the Imperial city of Cusco, then transfer to your accommodation.
---
ADITIONAL INFORMATION:
If you want to make this tour it is important to follow these recommendations:
For this type of trip it is important to wear light clothing, long pants, hiking boots, sunglasses, sunscreen, and hat because between the months of December to March the temperature can be between 8 and 22 degrees depending of the altitude as this area is rather a warm and humid subtropical area, with warmth during the day and cool at night. During the day it might rain so try to carry a poncho or an umbrella. During the winter months it is important to wear a jacket and warm clothes, because the cold can be intense during this time, especially at night. If you bring a camera or video camera don't forget to bring a plastic bag to protect from rain.
If you want to make a reservation it is important to send all personal information and payment required for this service, then our reservation department will send an e-voucher or receipt, which you must print and present at the start of the tour.
Note: You can reserve these services even if you are only one person, since these services are shared and all prices are in dollars. For any questions please send us an email.
End of our services
Includes
Transfers In / Out
Train tickets to Machu Picchu (according to the Train Service you want)
Professional bilingual tour guides
Bus ticket to Machupicchu round trip
Entrance fee to Machu Picchu
Bus tickets to Machu picchu Inca City and to Machu picchu town (Aguas Calientes)
1 lunch in Machu Picchu town
Expedition train ticket from Aguas Calientes to Ollantaytambo
Transfer from Ollantaytambo train station to your hotel in Cusco
What you need to bring
Original passport (and Visa Student Card if applicable)
Walking boots
Waterproof jacket / rain poncho
Warm jacket, hat and gloves
Sun hat
Sunglasses
Sun protection cream (factor 35 recommended)
Bottles of Water
Insect repellent
Toiletries
Personal medications
Camera and films
Torch with spare batteries (headlamps are the best)
Discounts
To qualify as a student, it is necessary to have a valid Visa student card and that you are under 24 years of age. Scan the card and email us the copy at the time of your booking. We will then offer a USD $ 20.00 discount per student
For children younger than 16, we offer a USD $ 20.00 discount (you also need to scan and email us a copy of the passport)
For children younger than 7, we offer a USD $ 50.00 discount (same here: you need to scan and email the passport)
Expedition Train: USD $ 295.00
This is for all the adventurous travelers who seek to discover all the journey details and arrange the trip itinerary according to their needs. The Expedition Train is the best alternative to go to Machu Picchu.
The Expedition Train is a service designed for the traveler's comfort, with four passenger's seats located in front of each other, so you can share your experience, and for the faithful backpack that is always with you we offer racks placed above the seats. Also, this train has panoramic windows, air conditioning and heating, and Andean music that creates a cheerful atmosphere.
Relax and start your adventure to the next station, Machu Picchu.
Because the expedition begins when you start on your destination.
This is a travel experience with all the qualities and benefits of our travel agency at a lower cost.
Vistadome Service: USD $ 375.00
The Vistadome is the ideal train for those who want to be in contact with the environment and appreciate the wonderful journey to Machu Picchu.
Surrounded entirely by glass and wagons with large panoramic windows offering incomparable scenic views and innumerous opportunities to capture amazing pictures. Vistadome travelers feel connected and part of the impressive landscape of Peru. The train provides to travelers on board a personalized and first level service to give them an unforgettable life experience.
The Vistadome also has air conditioning and heating, leather seats that adjust to the body to provide comfort and relaxation during the entire trip.
The Vistadome has a different service, which allows the visitor to be immersed and feel the Andean culture through its landscapes, music, dance and even food carefully prepared with local ingredients.
Connect your senses through a sophisticated and sensory travel experience.
On-board experience with the best comfort and quality service.
Trip to Machu Picchu
The itinerary is subject to change depending on the time of booking. It can also vary depending of the climate or the health status of the travelers. Train times will only be confirmed near the time of the tour; thus if you join a group later we cannot guarantee you will be travelling on the same train as the rest of the group. Train times are also subject to change depending on the train company timetables or availability.