Salkantay Trek Advices and Tips
The famous Salkantay Trek (or Salcantay Trek), named among the 25 best Treks in the World, by National Geographic Adventure Travel Magazine, is a trek open to everybody, with no limitation on spaces or permits (at least for now). Connecting the city of Mollepata, Cusco with Machu Picchu, the Classic Salkantay Trek is an ancient and remote footpath located in the same region as the Inca Trail where massive snowcapped mountains collide with lush tropical rain forests.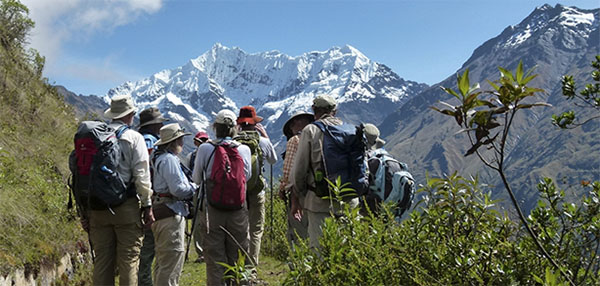 Salkantay Trek Tips:
No matter what time of year, the trail gets cold at night. Bring a warm sleeping bag and layer your clothes. You will need a good warm sleeping bag. Where possible we recommend you bring your own sleeping bag, however adequate ones can be hired locally (for approx US$25) but we can take no responsibility for the standard. If you are planning to hire a bag it is a good idea to bring a silk sleeping bag liner to use inside for added warmth and comfort. A four season (or -10) bag is recommended for the winter months. At other times you will probably be fine in a 3 season (or -4/-5) bag although this depends on how much you feel the cold and is given as a guideline only. Roll mats are provided on the Salkantay trek to Machu Picchu however for greater comfort and warmth, Thermo rest style mattresses can also be hired in Cusco for US$15. If you are travelling in winter and you do not wish to invest in a 4 season bag you may want to consider purchasing a 3 season bag plus a sleeping bag liner and bringing additional clothing.
Whatever you wear on your feet the most important thing is comfort. It is vital to ensure your boots are well worn in and lightweight. Ankle support and waterproofing is recommended but if you already have something comfortable with good grip on rocks then don't go rushing out to buy new boots – you are better off with your well worn in pair!.
Other must-brings: sturdy shoes, a flashlight (with fresh batteries), water-purification tablets, high-calorie snacks and a basic first-aid kit. Swimwear for Aguas Calientes hot springs - Towels can be hired there for 3 soles. Flipflops / thongs / jandals – If you wish to have a shower on the third night.
Altitude sickness is serious and can ruin your trip. The biggest mistake you can make is to fly directly to Cuzco (3326m/10,910ft) and expect to hike the next day. Give yourself a few days to adjust to the altitude first.
Choose your trekking agency carefully. Shop around and ask lots of questions: what you'll have to carry, how many people to a tent, how many porters for the group, if there are arrangements for special diets. It's worth paying more for a reputable agency that treats its porters well and respects the environment. We've recommended a tour we like at the end of this article.
At any time of the year the weather in Machu Picchu can change in an instant. Be prepared with a poncho or light raincoat just in-case.
Make sure you get your passport stamped with the Machu Picchu stamp. There is a small office just past the entrance where you can get this done.
Only small backpacks of less than 20 kg are allowed into Machu Picchu. There is a storage office just past the main entrance that charges 3 Soles (US$ 1) to hold your things for the day.
To the left of the entrance of Machu Picchu there is a pharmacy and a doctor's service available. The service is operated by Clinica's Pardo and San Jose (from Cusco).
Entrance to Huayna Picchu Mountain is limited to 400 people per day, 200 hundred at 7-8 a.m. and a further 200 from 10-11 a.m. Entrance tickets must be purchased in advance.
If you have a fear of heights, it is not recommended to hike Huayna Picchu. At the top, the path is very narrow and very steep.