Choquequirao Trek in 4 Days
---
---
This Arqueological Complex is very interesting and one of the most popular treks in Cusco area. This trail is situated in the spur of the mountain range of Salkantay, over 3030m surrounded by the Apus of Yamana, Ampay, Chokecarpu, Pumasiyo and Panta, on the left bank of Apurimac River. In the time of the Incas, it was united and in communication with Machu Picchu by a complex network of trails.
The reasons are many: The fantastic nature with valleys, snow-capped mountains and great variety of plants, birds and animals. Choquequiraw is considered as "The Last Refuge of the Inca Empire". Visitors can view a complex hydraulic system, most likely for domestic, ceremonial and agricultural use. Its geographic location in reference to other complexes of the same period would tend to indicate that its function was that of an Inca enclave toward the valleys of the Apurímac River.
ITINERARY
This lost city fascinated 19th century explorers and Hiram Bingham visited it two years before he discovered Machu Picchu. Difficult to reach, the ruins are rarely visited by travellers.
The southern approach to Choquequirao from Cachora requires a steep descent from almost 3200 metres down to the Apurimac river at 1200 metres, followed by an even steeper ascent up to the ruins. The site is perched a magnificent 1150 metres above the Apurimac, surrounded by densely-forested mountain slopes in the shadow of the huge, snowcapped Salkantay massif. In recent years, the ruins have been partially-cleared by Peruvian archaeologists, and can be easily explored by those intrepid enough to undertake the demanding trek required to get there.
Day 1: Cusco (3350m) - Cachora (2850m) – La Playa / Santa Rosa (2115m) – Camp in Marampata
---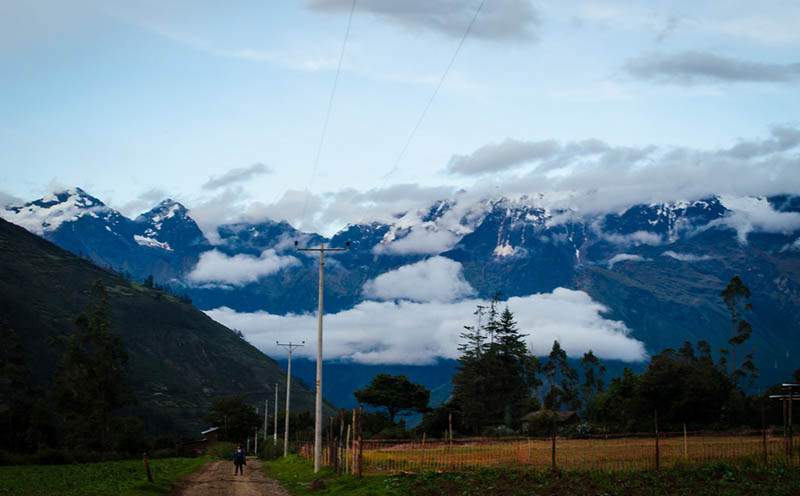 ---
We leave Cusco in the early morning to journey by road to the small village of Cachora, but not before to take a delicius breakfast in Curahuasi, on the way we will have an opportunity to visit Saywite, a fascinating and unique Inca site some 47 kilometres from Abancay. Saywite is a limestone outcrop about four metres in diameter on which the Incas carved a model of their empire, Tawantinsuyo. The stone, upon which images of the flora, fauna, topography and customs of the empire of the sun were traced, was used in ceremonies dedicated to the worship of water. Several other similar rock outcrops lie scattered across the surrounding area, along the vestiges of an Inca highway, where we will arrive after four hours.
On arriving in Cachora we will be met by our mule drivers, who will load our gear on the horses and mules before we begin our first day's hike. With the great Salkantay massif in front of us on the other side of the canyon, we will head along the edge of the Apurimac canyon, with the river almost 2000 metres below us. About half-way through the day we will begin our winding descent to the river. As we descend the s the river, heat becomes intense, and we will arrive hot and tired at the bridge which crosse to Santa Rosa, where we will be able to bathe to refresh ourselves.
Also in this place we´ll have the lunch for then continue till our first campsite in Marampata
Distance Travelled: 34 km
Approximate Walking Time: 8 hrs
Meals: Lunch, Dinner.
---
Day 2 : Marampata – Excursion in Choquequirao (3033m)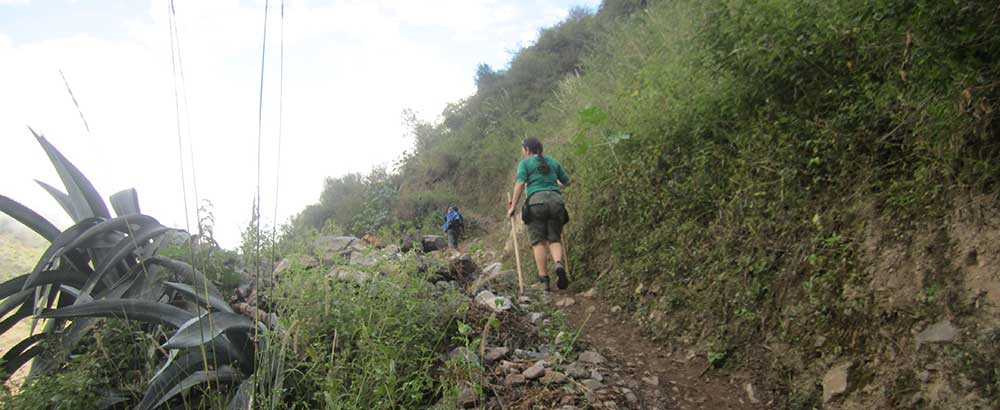 ---
After an early and energetic breakfast on our campsite in Marampata, we´ll climb a relatively steep trail to Choquequiraw, just 2 hours hike from Marampata, Choquequirao waith for us!!! Along the way you will observe many orchids and wild flowers as well as many types of birds from Rayanpata (cradle of Gold) 3035m. Once we´ll arrive at the archaeological site (Choquequirao) We´ll have wholle the day to explore it, after the lunch we´ll continue expluring this enegmatic place and then we´ll be in time to enjoy the sunset and maybe an opportunity to see a Condor flying.
Choquequirao will be our second campsite
Approximate Walking Time: 2 hrs
Meals: Breakfast, Lunch, Dinner.
---
Day 3 : Choquequirao Trail (3033m) - Chiquisca (1950m)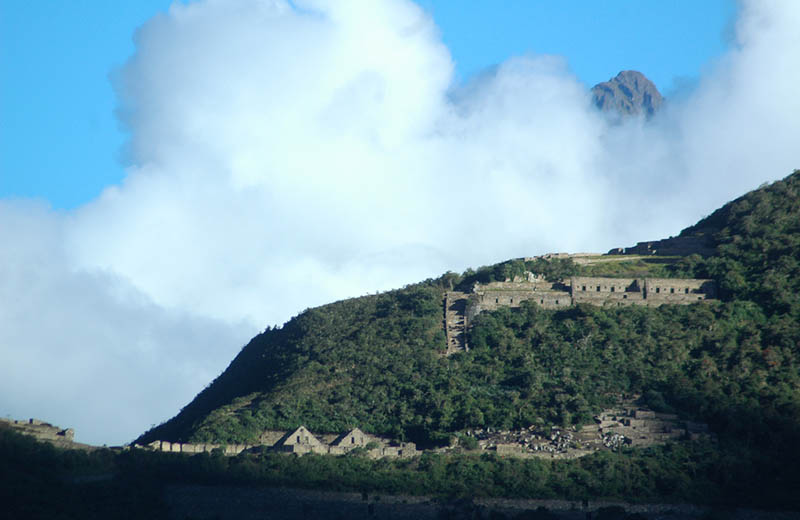 ---
After exploring the entire archeological complex and studying all the sectors in detail we head of towards Chiquisca descending back along the same path to Santa Rosa. We continue our gradual descent from 3033 meters to the beaches of the Apurimac River at 1550m Today's hike ends at Chiquisca where we will spend the night.
Distance Travelled: 14 km
Approximate Walking Time: 8 hrs
Meals: Breakfast, Lunch, Dinner
---
Day 4 : Chiquisca (1950m)-San Pedro de Cachora (2850m)- Cusco (3450m)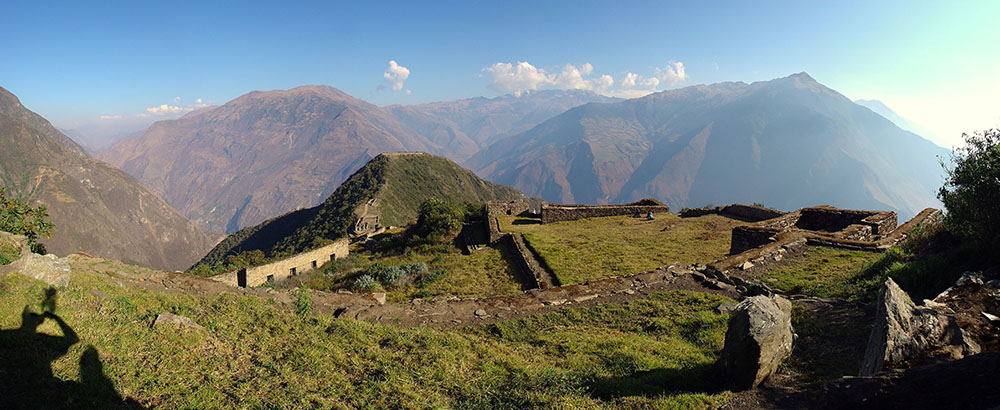 ---
An early start today will help us to avoid the worst of the heat in the canyon and guarantee us some magnificent views of the Apurimac and the surrounding peaks. On our journey we reach the lookout at Capuliyoc one final time where we say goodbye to the fabulous views of the Choquequirao ruins. We will also see the majestic snow-covered peak of Padreyoc overlooking the Apurimac Canyon while surrounded by the flora & forna special to this area. We will then climb to our final destination of San Pedro de Cachora to return to Cusco by bus.
Distance Travelled: 17 km
Approximate Walking Time: 6 hrs
Meals: Breakfast, Lunch, Dinner
Optional: If you would like to spend an extra day in Choquequirao, please let us know so we can change the date on your return Bus to Cusco.
END OF OUR SERVICES
INCLUDES
Transfers In / Out
Transportation Cusco - Cachora. (Start walking)
Professional bilingual tour guide English /Spanish.
Assistant tour guide (for groups of 9 or more people)
Entrance Fee to Choquequiraw.
3 breakfasts, 3 lunches, 3 afternoon snacks, 3 dinners. Vegetarian (vegan) food on request at no extra cost!
Cook. (Professional)
Drinking water along the Choquequirao Trek, only on meal times.
Dining tent with tables and chairs
1st Aid Kit
01 Oxygen Ball
Horses (to carry tents, food and cooking equipment) and Horse man
Quadruple & waterproof Camping tent "02 people only"
01 Sleeping Mattress per person "thermal rest"
NOT INCLUDES
1st Breakfast, Last Lunch
Other not mentioned
RESERVATIONS
For availability of spaces for this service, please contact us info@salkantaytrek.org and we`ll send you detailed information, prices, terms and conditions.
Please keep in mind that significant price reductions are available for groups. All our tours are fully guaranteed, departure every day. Contact us for more information for the tour that you are choosing, or to begin customizing your own itinerary. recommendations:
" Inka Trail Expeditions Perú is a tour operator travel agency in Peru and the city of Cusco, We really know what we do and offer, We are well managed, with several offices in Peru and a long list of travel destinations , offering all travel alternatives in Perú, from family trips, honeymoon trips and luxury travel, including adventure tours and exploring trips to the jungle, for almost any budget"
NOTE: Inka Trail Expeditions Perú, specializes in organizing the ideal travel plan to Peru, with hotels and destinations that you choose, because we have all confidential and promotional rates. For guidance on how to organize your custom package. Please write us.