Salkantay Trek Difficulty Level
---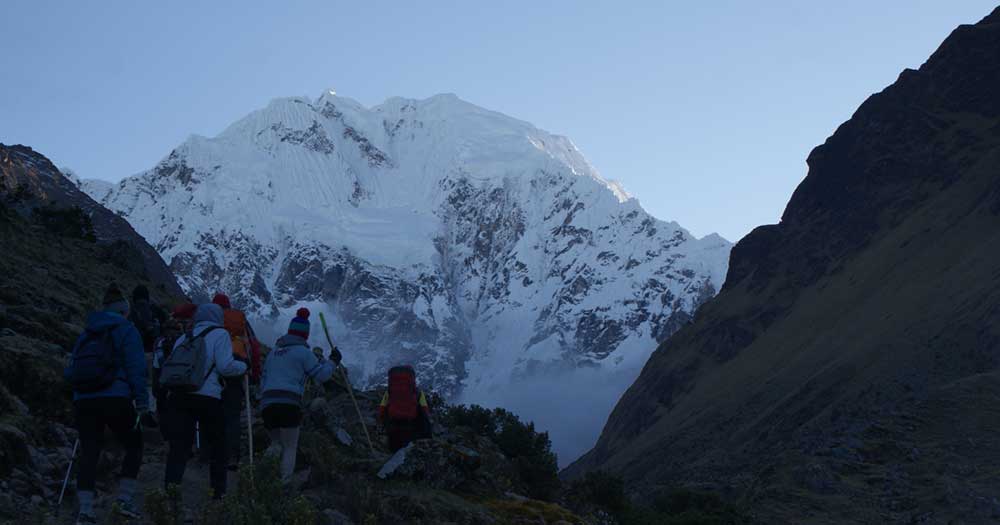 ---
All of the treks are fairly difficult in Perú and you should be well prepared and healthy prior to starting the trek. You have to be moderately fit to complete this hike. The altitude of this mountain is high than others mountains in Cusco - Perú.
Try walking time 10km in a day or go to the gym a month before the trail because we will cover a lot of distance in the first 2 days. The good news is that everyone in the last few years who started a hike has finished it! If you are really struggling, we have emergency horses that you can ride if you are not fit for the trek.
The second day of the trek will be the longest and hardest. After an early breakfast, we will start hiking up a moderate climb for three and half hours until we reach the Salkantay Pass (4,600m/15,092ft). From this point, we can soak in spectacular views of Cusco's second highest peak. At the pass, you can leave a piece of rock carried from the bottom as a present for the mountain spirit.
No matter what time of year, the trail gets cold at night (the altitude is more than 6000m) until to reach Aguas Calientes. Bring a warm sleeping bag and layer your clothes. You will need a good warm sleeping bag. Where possible we recommend you bring just your own best sleeping bag. If you are planning to hire a bag it is a good idea to bring a silk sleeping bag liner to use inside for added warmth and comfort. A four season (or -10) bag is recommended for the winter months. At other times you will probably be fine in a 3 season (or -4/-5) bag although this depends on how much you feel the cold and is given as a guideline only.
Roll mats are provided on the Salkantay trek to Machu Picchu however for greater comfort and warmth, Thermo rest style mattresses can also be hired in Cusco for USD $ 15. If you are travelling in winter and you do not wish to invest in a 4 season bag you may want to consider purchasing a 3 season bag plus a sleeping bag liner and bringing additional clothing.
This mountain in Cusco - Perú is cold all the time, the high point is the Salcantay pass (Altitude is 6372 m). 4 days of treks is a classic one, this trek always go to Machu Picchu, because it are an alternative to Inca Trail, and end just in Aguas calientes (Machu Picchu Village).
The best time to start a travel with trail is just from May to October, in this months Cusco and also all the Perú has many festivities, like Inti Raymi the main festival of the Incas here in Peru.
If you want to travel to Perú (the Inca Land) and you want to do a hike you have to know that at the final part is always the best! why? for example in Salkantay, because you are going to see Machu Picchu, but before that you can take a refreshing dip in Aguas Calientes.
Don't miss this travel in Cusco - Perú with ITEP Eco Travel, we are specialist in travel, treks, hike, we are the best!
DIFFICULTY LEVEL: BY DAY
| | | | | |
| --- | --- | --- | --- | --- |
| DAY 1 | DAY 2 | DAY 3 | DAY 4 | DAY 5 |
| Moderate | Challenge | Moderate | Moderate | Easy |
DIFFICULTY LEVEL: BY DAY
| | | | |
| --- | --- | --- | --- |
| DAY 1 | DAY 2 | DAY 3 | DAY 4 |
| Moderate | Challenge | Moderate | Easy |