Salkantay Trek Distances and Altitudes along the trek to Machu Picchu
---

---
The Salkantay Trek to Machu Picchu passes through stunning landscapes varying from the cloud forest to the high mountains. Along the way you will see the fantastic views of second highest mountain in the Cusco area - Salkantay ("Savage mountain" from Quechua) standing at 20,574' (6,271 m). This trek to Machu Picchu goes through unfrequented areas and combines culture and tradition with the incredible flora and fauna offered by Perú. You will be in the real Andes and the perfect conditions to get a sense of the life in the area.
Salkantay Trek Distances
Day 1: Challakancha - Humantay Lake - Soraypampa sky campsite: 13 Km (8.08 miles)
Day 2: Soraypampa sky campsite to Collpapampa: 22 Km (13.67 miles)
Day 3: Collpapampa to La Playa: 16 Km (9.94 miles)
Day 4: La Playa to Aguas Calientes: 19 Km (11.81 miles)
Day 5: Aguas Calientes to Machu Picchu: 4 Km (2.49 miles)
Total Distance: 74 Km (45.98 miles)
---
The standard route on the mountain is the Northeast ridge. Accessing the route typically involves three days of travel from Cusco. The climb involves about 1,800 m (5,900 ft) of vertical gain, on glacier, snow, ice, and some rock.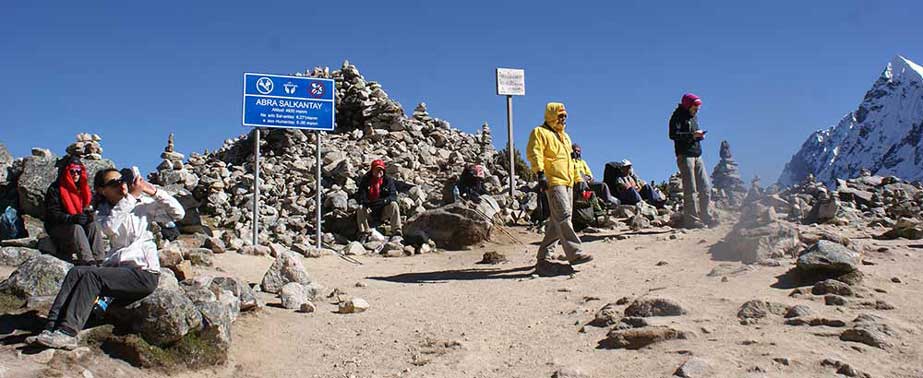 Day

Altitude

Distance

1
Cusco – Soraypampa

Starting Elevation "Mollepata": 2900 meters / 9,515ft
Campsite Elevation "Soraypampa": 3850 meters / 12,631ft
Considered : Moderate
The area : Andes

Walking distance: 13 km (approx.)
Estimated trekking time: 5 hours
Maximum altitude point: 3,850 m (approx.)

2
Soraypampa – Salkantay Pass - Collpapampa

Highest Elevation "Salkantay pass": 4600 meters / 15090 ft
Campsite Elevation "Collpapampa": 3000m / 9842ft
Considered: Challenge
The area: Andes, Salkantay Glaciar

Walking distance 22 km (approx.)
Estimated trekking time 9 hours (approx.)

3
Collpapampa – Lucmabamba

Starting Elevation "Collpapampa": 3000m / 9842ft
Campsite Elevation "Lucmabamba": 2000mt / 6561ft
Considered: Moderate
The area: Cloud Forest

Walking distance: 16 km (approx.)
Estimated trekking time: 6 hours

4
Lucmabamba - Hidroelectic - Aguas Calientes

Starting Elevation "Lucmabamba": 2000 meters / 6562 ft
Hotel Elevation "Aguas Calientes": 2050 meters / 6726 ft
Considered: Moderate
The area: Cloud Forest

Walking Distance: 15km / 9 miles
Estimated trekking time: 6 to 7 hours

5
Aguas Calientes – Machu Picchu – Cusco

Machupicchu Inca City elevation: 7,972' (2,430 m)
Huaynapicchu sacred Mountain elevation: 8,924' (2,720 m)