Rainbow Mountain Full Day
---
---
From USD $45.00 per person
Enjoy the natural colours of the rarely visited Rainbow Mountain, hiking through some isolated communities, in which you may interact with the local's who are still keeping the culture alive! You'll see snow capped peaks, herds of llamas, glaciers and turquoise lakes, all set within an incredibly colourful mountain range. The trek is one of the quietest in the region it is likely you will not see another trekker.
The trek offers a selection of wildlife including soaring condors, vicunas, bobcats and pumas. The colourful sandstone mountains in the Vinicunca area is probably the coolest thing you'll see in Peru.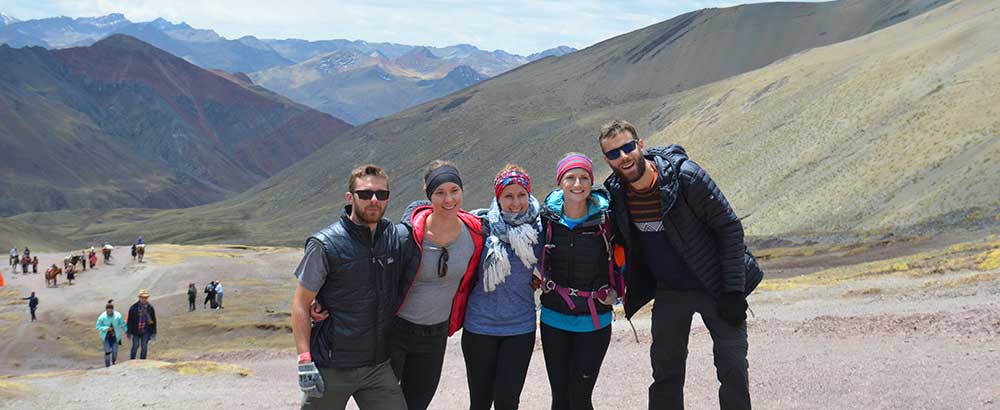 ITINERARY
Pick up from your hotel at 3:30 am, we will have a 3 hrs by the South Valley to reach the trailhead in Quesiuno (4,326 m / 14,189 ft.). During the trip we will see fields, and snowy landscapes.
When we get to our first stop we will have a breakfast that will be provided by our company, then we begin the leisurely walk. You will be amazed immediately to see alpacas and llamas. Along the way we will also have the company of Ausangate the most important for the Incas.
After a walk of about 3 hours, we arrive at our destination Vinicunca Rainbow Mountain (5,020 m / 16,466 ft.). Where we will have an hour to enjoy taking pictures of natural scenery and eat our snack. Then return along the same path to the starting point, the hike will take for 2 hours, where we expect our private transport to take us back to the village of Pitumarca for our typical lunch in the area. After lunch we will begin the return trip, 3 hours back to Cusco. Where we will arrive approximately between 6 and 7 pm.
END OF OUR SERVICES
INCLUDES
Pick up from your hotel.
Private transport Cusco - Pitumarca - Cusco.
Entrance fee to access the mountain area (10 soles)
1 Breakfast
1 Snack
Professional guide.
1 Lunch.
First aid kit and oxygen tank.
Vegetarian options / special diet available
Not Included
Canes trek.
Additional Personal horse for riding 30.00 USD
Tips for the wranglers and guides
YOU HAVE TO BRING
A small backpack.
Copy of your passport.
Good team trek, such as hiking boots, scarf, polar or thermal clothing, gloves, fleece warm hat and wool socks.
Waterproof pants and jacket for the cold
T-shirts and long sleeve sweaters
Poncho Rain
Sun hat
Sunscreen
Camera and films
Canes.
Extra money for souvenirs, drinks and TIPS.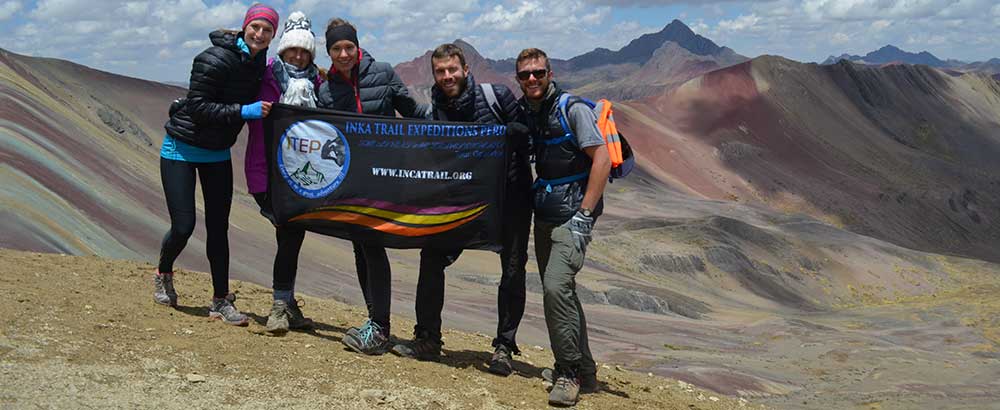 Promo get 10% discount
Now $
45
USD
was

$ 50
Tour Code: RMFD1
Contact Us
Book Now

Trip Details
RMFD1
1 Day
Every day of the year (please check availability in our groups).
3350m - 4600m. / 9840 ft - 15092 ft.
Cusco, Rainbow Mountain (Vinicunca).
Rainbow Mountain Availability
- Daily departures are available along the year, the recommended period for this trek is April to October.
- All private service departure dates are adapted to your request any day you choose.
Small groups 10 – 16 people maximun. Average 12 people.
The world opens up a little more for a small group, We have the freedom to move around
Preparation prior the Hiking Trips
due to the altitude of the highest point in Rainbow Mountain we recommend a period of at least 2 days for acclimatization in Cusco at 3350m/9840ft.
Vegetarian option at no extra cost. Check our regular menú
DAY 1: moderate