Sacred Valley of the Incas with connection to Machu Picchu in 2 days
---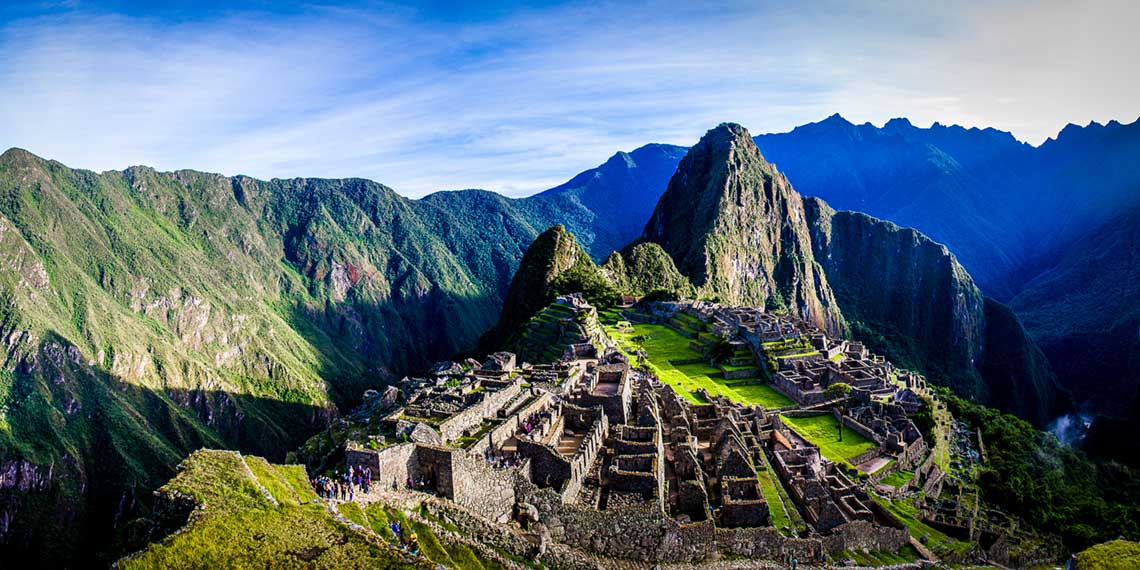 ---
One of the classic and important tours in Cusco is the Sacred Valley of the Incas with connection to the sanctuary of Machu Picchu. In this tour, the first day you will visit the typical local artisanal market in the village of Pisac and the Archaeological site of Pisac.
Then you will continue along the Vilcanota River until you reach Urubamba town, where you will enjoy the typical Peruvian lunch buffet. Later you will visit the Archaeological site of Ollantaytambo, then you will continue by touristic train to Aguas Calientes (Machu Picchu town) where you will spend the night in one of our hotels. The second day, early in the morning, you will visit the sanctuary of Machu Picchu. In the evening you will return to Cusco.
---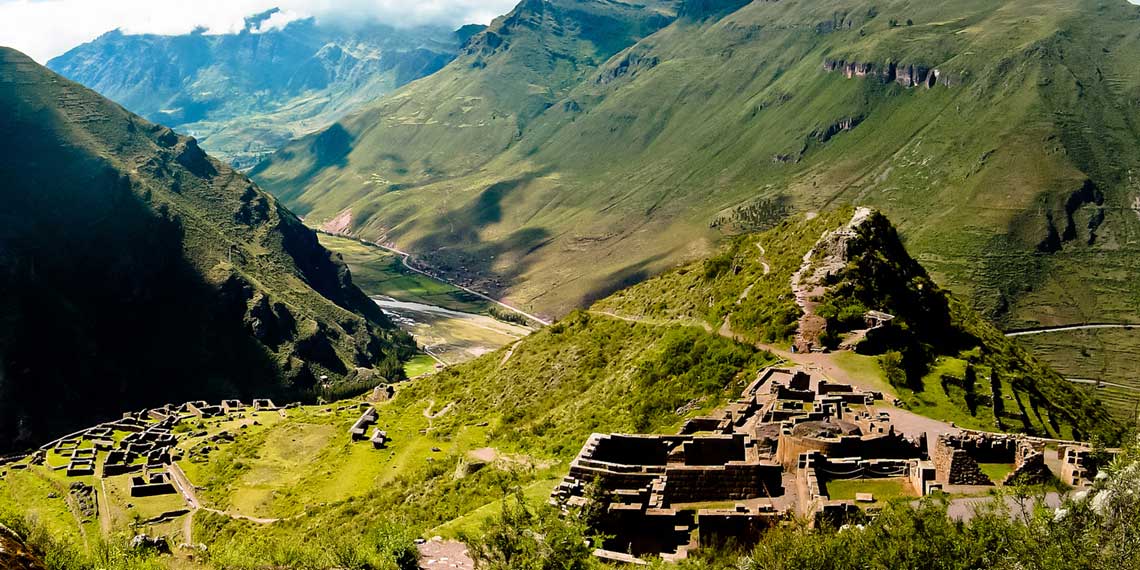 ---
ITINERARY
Day 1 : Cusco – Pisac – Urubamba - Ollantaytambo – Aguas Calientes
---
We will pick up you from your hotel at 8:20 am in our touristic bus, and then we will go to visit the Sacred Valley of the Incas and different archaeological zones like: Pisac and Ollantaytambo. We can also visit the typical artesanal markets of the town of Pisac.
The first place you will visit will be the typical local market of Pisac, where you will have the opportunity to appreciate different types of sweaters, scarves, and hats made of alpaca, wool, etc. After this short stop, we will continue to the archaeological site of Pisac. We will have to walk approximately 10 minutes to get there. Here you will have a guided tour for around 1 hour, where we will visit the most important places, like the agriculture place, cemetery of the Incas, the temple of the sun, etc. After visiting Pisac we will continue to Urubamba in our bus and around midday we will stop in a typical restaurant to enjoy our typical Peruvian lunch (buffet).
After our lunch we will drive 30 more minutes to visit the archaeological site of Ollantaytambo. Here you will again discover the magnificence of the Inca constructions and the beauty of the local people in their traditional dress. End of the tour of sacred valley at 15:45 pm.
After of our tour we will drop you at the train station in Ollantaytambo, from where you will take the train at 16:36 pm to Aguas Calientes (Machu Picchu town). You will travel by train approximately one hour and 45 minutes from Ollantaytambo to Aguas Calientes where our transfer will await you to transfer to our hotel (Night in hotel).
(Train from Ollantaytambo to Aguas Calientes is at 16:36 pm, arrival in Aguas Calientes at 18:20 pm).
---
Day 2 : Aguas Calientes – Machu Picchu – Cusco
---
After enjoying your delicious breakfast in the hotel we will visit the Inca citadel of Machu Picchu
Early in the morning we will take the bus from Aguas Calientes to Machu Picchu. This short trip by bus will be approximately 30 minutes along an unpaved road. During the trip by bus you will appreciate the fantastic and beautiful landscapes full of plants and beautiful flowers, and you will also see the Vilcanota River. Then we will visit Machu Picchu with our professional guide who will guide us through the whole Inca citadel of Machu Picchu for approximately 3 hours. Then you will have free time to visit more places in the Inca citadel of Machu Picchu and take the best photos in places that you like.
If would you like to visit Huayna Picchu or Machu Picchu mountain you can go after our guided tour in Machu Picchu if you have an entrance ticket.
Machu Picchu was one of the most important cities of the Incas and you need to stay here more than 5 hour to experience all of Machu Picchu.
After visiting Machu Picchu, we will return to Aguas Calientes in our bus where you can enjoy your delicious lunch. Later you have to return to Ollantaytambo by train, and then travel by bus to Cusco (please you must arrive at the train station 30 minutes before departure time).
Touristic Train, from Aguas Calientes to Ollantaytambo.
Bus, from Ollantaytambo to Cusco.
End of our Services
INCLUDES
Tour of the Sacred Valley of the Incas.
Entrance ticket for the Sacred Valley Tour.
Bus and professional guide for the Sacred Valley tour.
Buffet lunch in Urubamba. (Sacred Valley tour)
Round trip train ticket: Ollataytambo – Aguas Calientes – Ollantaytambo.
1 night in hotel in Aguas Calientes with breakfast.
Entrance ticket to the citadel of Machu Picchu.
Bus ticket (consetour) up to and down from Machu Picchu.
Professional tour guide for Machu Picchu (tour in group)
Bus: Transfer from Ollantaytambo to Cusco.
All the information about the tour (one day before).
NOT INCLUDES
Food in Machu Picchu.
Entrance fee to Huayna Picchu more USD $ 75.00.
Entrance fee to Machu Picchu mountain more USD $ 75.00.
RECOMMENDED
Bottled water.
Video camera or photographic camera.
Sunglasses, sunblock, hat or cap.
Snack.
Light clothing.
Warm clothing.
Bathing suit in case you want to visit the hot springs in Aguas Calientes.
Extra money.
Hotels in Cusco: no matter what the standard you would like (Standard, Economy, First Class, or Luxury) you should ask us to book your room as we know all the different rates for every hotel in Cusco and might secure you a pretty sweet deal.
DISCOUNTS
To qualify as a student, it is necessary to have a valid Student Visa. Scan the card and email us the copy at the time of your booking. We will then offer a USD $ 20.00 discount per student.
For children younger than 16, we offer a USD $ 20.00 discount (you also need to scan and email us a copy of the passports).
For children younger than 7, we offer a USD $ 50.00 discount (same here: you need to scan and email the passports).
ROUTE ON GOOGLE MAPS
RESERVATIONS
For availability of spaces for this service, please contact us info@salkantaytrek.org and we`ll send you detailed information, prices, terms and conditions.
Please keep in mind that significant price reductions are available for groups. All our tours are fully guaranteed, departure every day. Contact us for more information for the tour that you are choosing, or to begin customizing your own itinerary. recommendations:
"ITEP Eco Travel is a tour operator travel agency in Peru and the city of Cusco, We really know what we do and offer, We are well managed, with several offices in Peru and a long list of travel destinations, offering all travel alternatives in Perú, from family trips, honeymoon trips and luxury travel, including adventure tours and exploring trips to the jungle, for almost any budget"
NOTE: ITEP Eco Travel, specializes in organizing the ideal travel plan to Peru, with hotels and destinations that you choose, because we have all confidential and promotional rates. For guidance on how to organize your custom package. Please write us.