CUSCO CAPITAL OF GASTRONOMY
CUSCO CAPITAL OF GASTRONOMY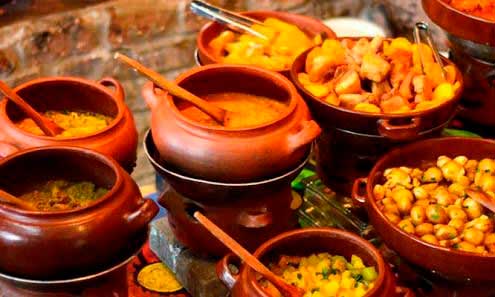 When we hear Cusco, we think of the archaeological centers it has, such as Sacsayhuaman, Pisac, Ollantaytambo, among others, but having Machupicchu as the main attraction. Although Cusco is a destination chosen for its history, landscapes, buildings and living culture, in recent years it has also become one of the most visited attractions for its gastronomy.
That is why it is recommended that to complement your visit to Cusco is essential that you try the typical dishes and drinks, because it has one of the best dishes of the Andes where the use of potato, corn are the main ingredients.
Here we recommend some of the typical dishes of Cusco that you can taste during your stay in Cusco.
LAWA OF CHUÑO
This dish is considered to be of Inca origin. It is a dish based on chuño flour, potato, chickpeas, rice, and lamb meat.
Preparation
In a portion of water boil a handful of rice, green beans, cut or mashed frozen potatoes. After everything is cooked, add the chuño flour, stirring with a wooden spoon until it is homogeneous and ready to serve.
This dish can eaten at any time of the year, it is highly recommended in cold days.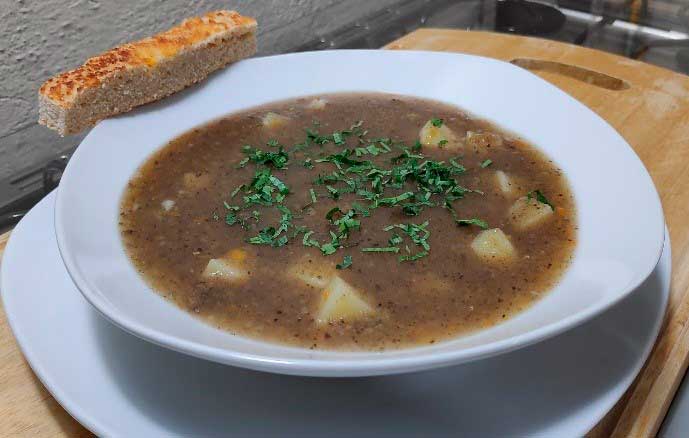 OLLUQUITO WITH CHARQUI
This dish contains two ingredients that are exclusively Peruvian and are harvested and consumed in the highland areas of Cusco: potatoes and olluco accompanied by charqui, which is dried llama or alpaca meat.
Preparation
In a pot with oil, fry the ground garlic, the aji panca bell pepper and the minced meat, salt, pepper and cumin, and then add a little water together with the olluco chopped in strips. It is covered and we wait for it to cook, while the potatoes are fried. When everything is cooked, mix it with the potatoes. Now of serving, add chopped parsley, which will give it a special touch.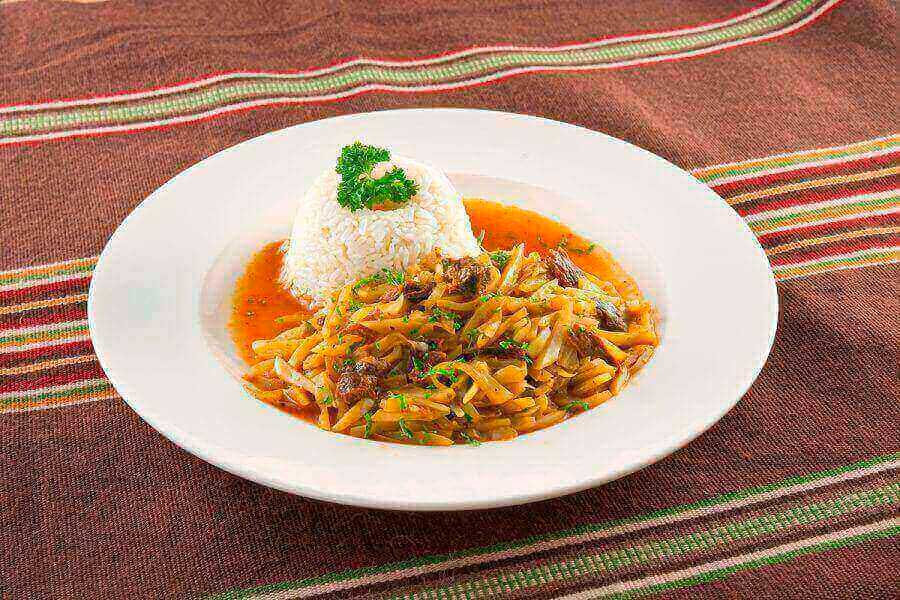 KAPCHI CHEESE
It is a dish that consumed mostly in the last months of the year; it is a dish of fresh cheese, beans, potatoes seasoned with milk and a little bit of chili.
Preparation
Boil the beans in a pot, in a frying pan fry the onion, garlic and once ready add the beans, boiled potatoes, milk, red chili and can be accompanied with rice.
TIMPU OR PUCHERO
This is a dish that is mostly consumed during the carnival season.
It is a dish that has as ingredients of different meats, potatoes, vegetables, legumes, yucca, and sweet potato.
Preparation
Boil the meat in a pot and when it is boiling, add the cabbage leaves, potatoes, chickpeas and rice previously prepared. In another pot boil sweet potatoes and yuccas that are served directly to the plate without mixing. If you wish, you can also serve it with the lamb broth.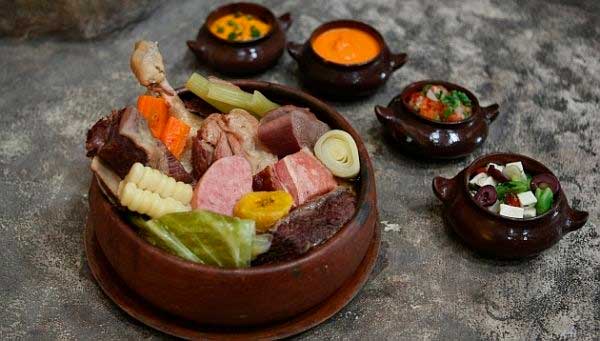 CHICHARRON CUSQUEÑO
It is prepared with pork or pork meat, which browned with its own fat.
Preparation
The pork is cut into pieces, boiled, and then browned in its own fat. This dish is accompanied by circular fried potatoes, corn or corn and a salad based on onions and herbs.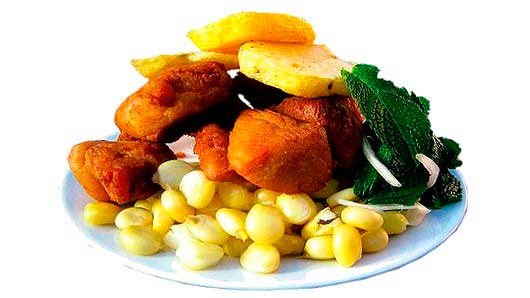 CUY CHACTADO
It is a typical dish based on guinea pig accompanied by golden potatoes, fried yucca, corn and creole sauce.
Preparation
The guinea pig is fried in abundant oil under a stone; meanwhile the potatoes are boiled and then browned.
This dish can be accompanied with fried yuccas, corn, creole sauce and chili made of huacatay.
ROAST PORK IN THE OVEN
The roast suckling pig or pork is served as a snack, the pieces of pork are chosen, washed and seasoned and put to macerate for 24 to 48 hours with salt, pepper, ground chili, vinegar, beer and ground aji panca chili.
Then it baked over low heat until it is ready. It is accompanied with mote, yucca. This dish can be found in different parts of Peru.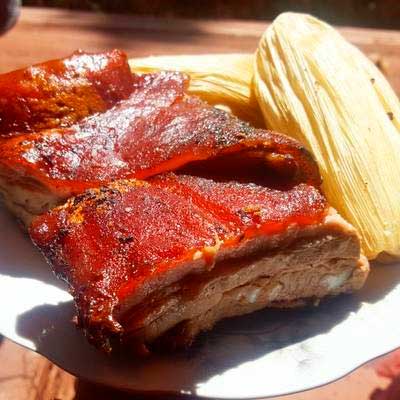 CHIRIUCHU
Chiriuchu means cold chili or cold hot bell pepper in the word.
It considered Cusco's flagship dish and considered the culinary art star of Corpus Christi. This food has a mix between the coast, highlands and jungle, a perfect combination.
This dish based on guinea pig, chicken, jerky, charqui, cochayuyo, fish roe and rocoto.